Don't you hate when you are minding your own business, just wasting time on Instagram and then BOOM! You are slapped in the face with hate. That's what happened to me this weekend. I saw this Banana Republic Factory Store ad sponsored in my feed. Normally I would ignore this ad because I am not a Banana Republic kind of girl and I also hate Outlet stores, but the multiracial couple caught my eye. Of course my first instinct, as the founder of Swirl Nation Blog and the mother of a biracial daughter, was "awwww how cute are they?!". But that was instantly me with a feeling of "oh shit, I bet the comments are full of ignorance." Unfortunately my feeling was correct.
Over 3,000 people of course liked this photo so I don't want to discount that, but as usual those with the most hateful voices tend to also have the loudest. I am not one to engage with people on social media, especially in an argumentative way, but I was certainly tempted. Also since this is an ad, and not a post that will remain on the company's profile, I decided to screenshot the hate to preserve it for all to see.
I have been the target of some social media hate in my day. All of the messages have been from insecure white men who feel like I "wasted my white genes" by having an biracial daughter. I've been asked why I "ruined myself" by dating black or multiracial men. These are always fun DMs to get. One was by a former high school classmate of mine, or at least that is what he said, I couldn't see his face because his profile photo was him in a KKK hood. Yup, this world is a scary place.
Recently the hate has become more vocal. People are no longer hiding their racist views and with social media they can broadcast them to the world within seconds. As a mother with a daughter who is in middle school, it worries me what she may innocently come across when she's least expecting it. That's what happened here, just scrolling along, seeing what my friends are up to and BAM! Racist assholes trying to mess up my day.
You can go through the whole chain below: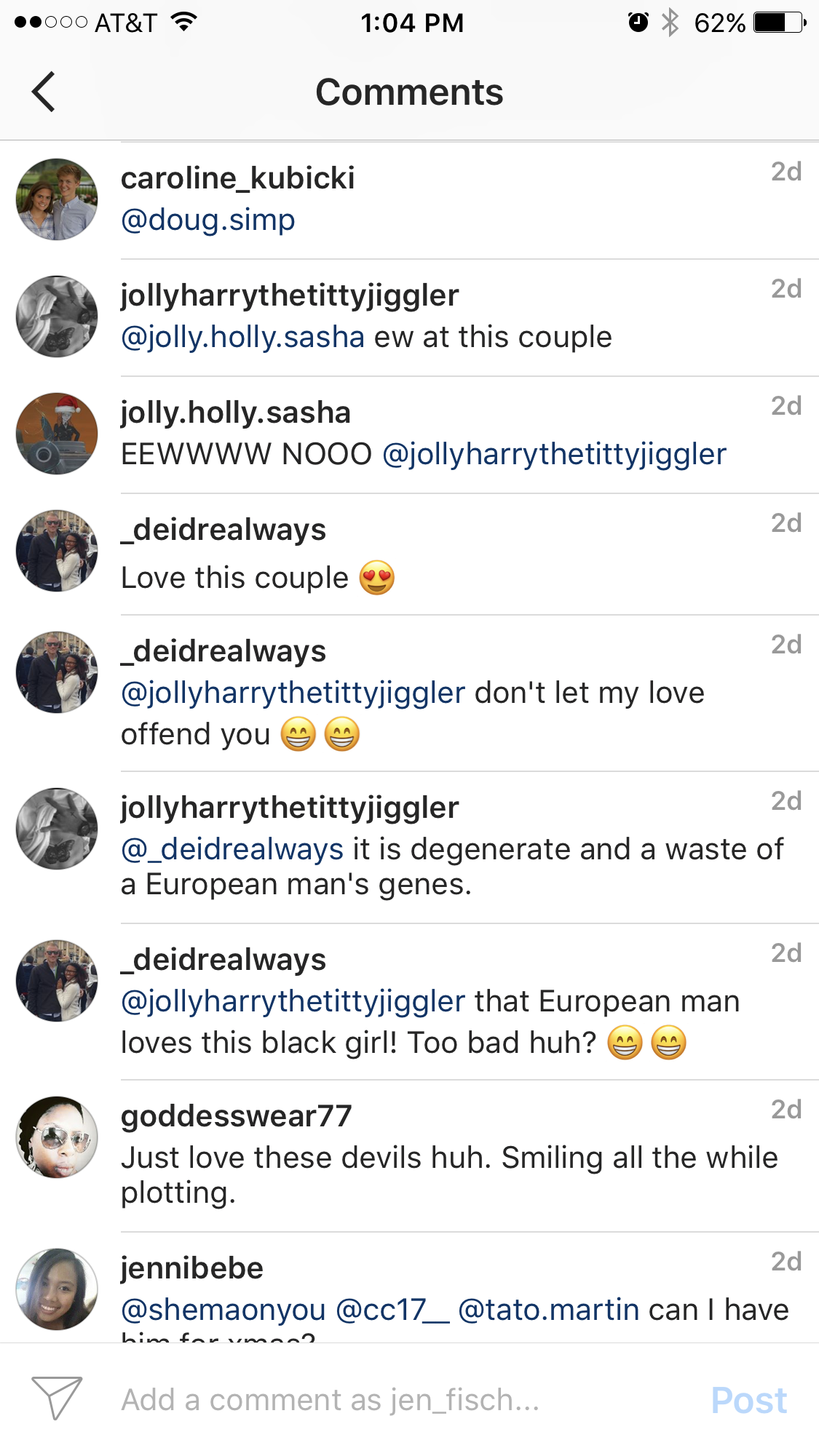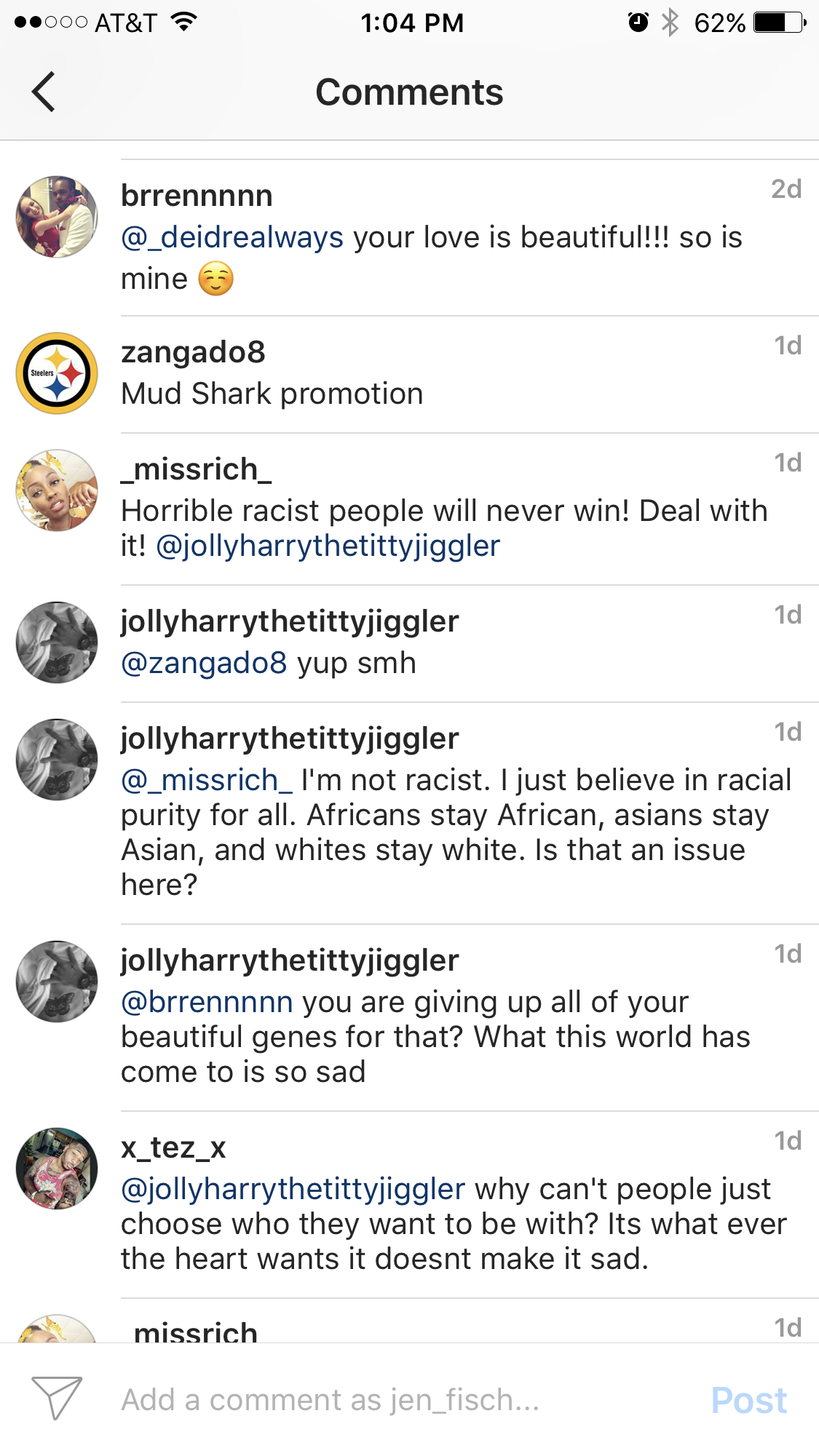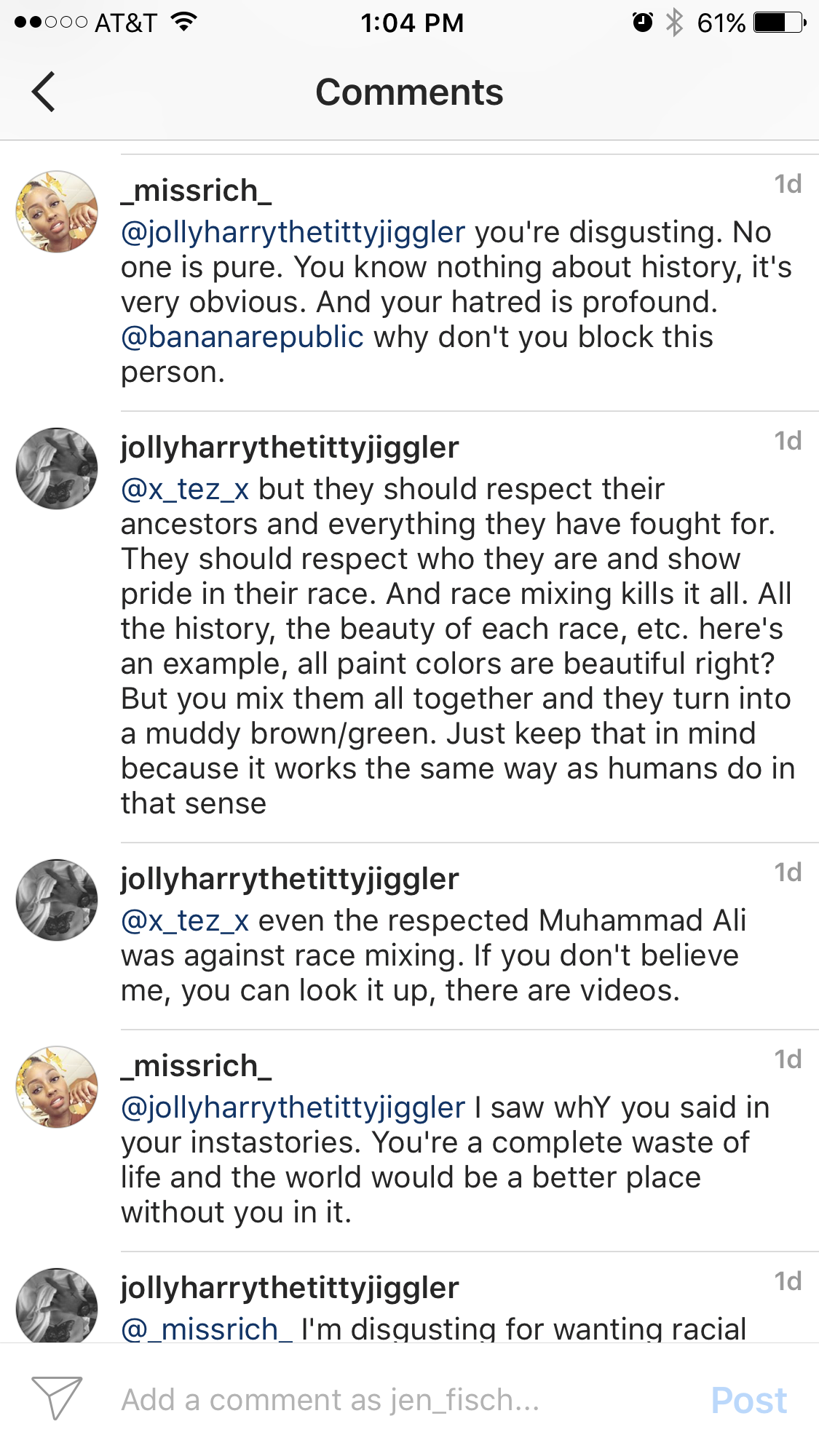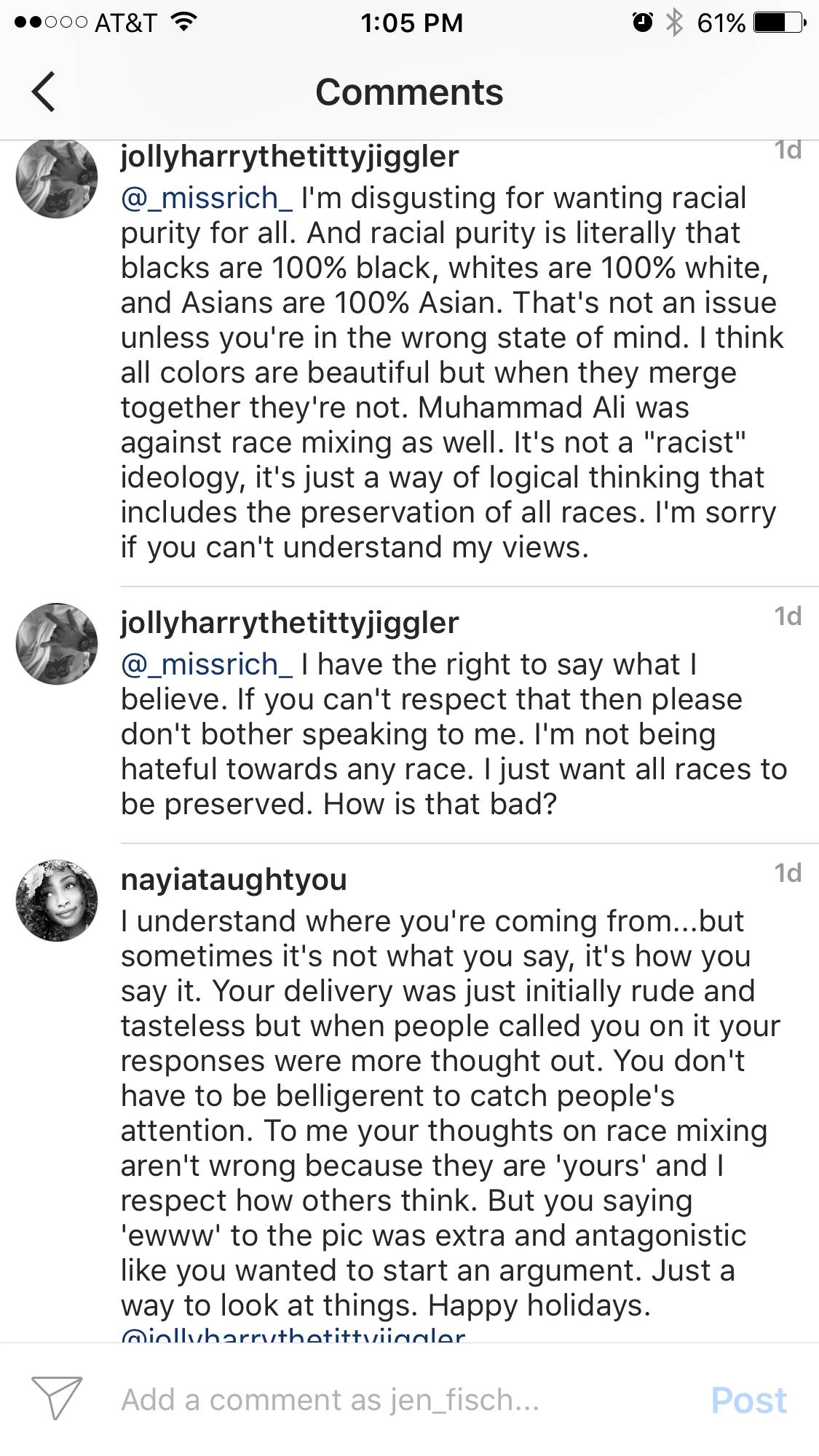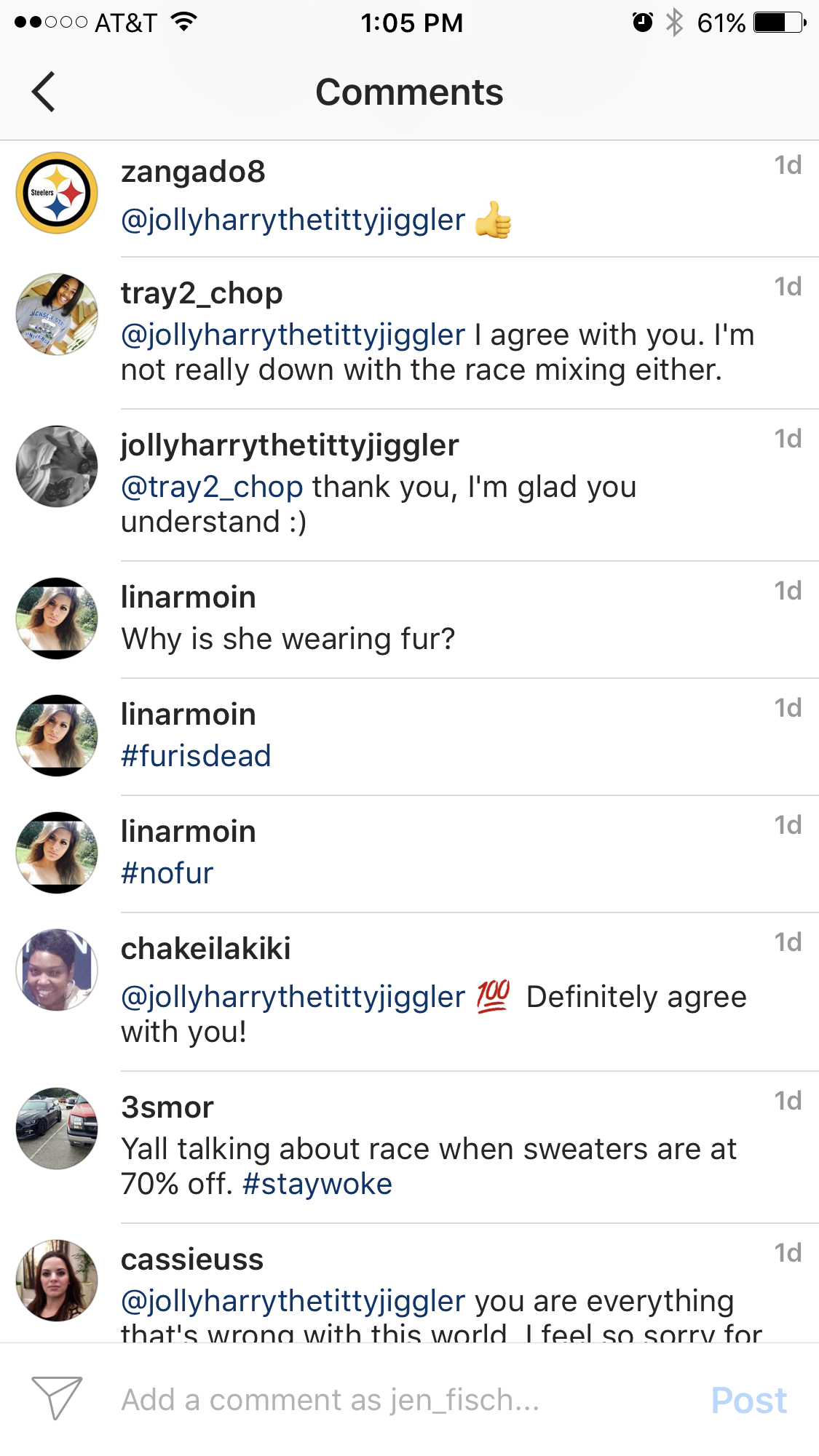 Banana Republic is owned by the same company as The Gap and Old Navy. This Spring Old Navy got a lot of attention for their use of a beautiful mixed family which got endless attention from racists. As a company these brands have always been progressive in their use of interracial couples and multiracial families. I'm happy they do not back down to the hate and continue to share a diverse sampling of the human race.
Instances like this remind me why we started Swirl Nation Blog. Sometimes living in Los Angeles it is easy to think that everyone thinks like I do. The latest election is a giant wake up call of course. Hate is prevalent and as @mshite2you says, is "trying to rise up again". Those of us who are involved and passionate about the multiracial community need to keep spreading love.
The idea of sheltering my 12 year old daughter from racism and hate is attractive, but wouldn't do her any good. She needs to know her history and she needs to know the current state of race relations in America. And of course I hope if "the hate" slaps her in the face one of these days I hope she can be confident and strong in the face of discrimination. I hope outlets like this site will help her and other multiracial people feel loved, accepted and supported- for we are stronger when we battle back together against those who are filled with ugliness.
I also hope corporate America will continue to represent diverse couples and families in advertising. I recognize this often brings them backlash to the companies, but I have noticed an increase in diverse casting choices the last couple years. The Cheerios commercial with the multiracial family probably got the most press and recently we featured the new Chase Bank commercial that follows an interracial love story. I wish everyone in this world was as smart as the kids in this video:
Some wisdom from these kids:
"Think about those people that are of mixed races, they probably feel horrible because of messed up people like the ones commenting."
"If you don't have anything nice to say, don't say anything at all."
"In real life there are family of all races."
"It definitely will get people mad, but eventually those people will just realize it doesn't really matter."
So I want to thank Banana Republic Factory Stores, and all of the other brands that realistically portray America's families, don't back down to the hate.