I got to meet Kayci through a feature we did on her younger brother Karson about a month ago. Kayci and I started chatting through email and I was thrilled when this Harvard grad expressed interest in becoming a contributor for our blog!
NAME AND AGE
Kayci Baldwin, age 23
WHAT MIX ARE YOU?
I am half black and half white. Both sides of my family have been here as far back as the late eighteenth century, so we're pretty much just American at this point, but my mom's family can be traced back to Ireland, Germany, Scotland and England.
WHERE DO YOU CURRENTLY LIVE?
Boston, MA
IS THE COMMUNITY YOU LIVE IN NOW DIVERSE?
While Boston as a whole is pretty diverse, I've found the city to be extremely segregated by race and class. The neighborhood I live and work in is almost entirely white.
WHERE DID YOU GROW UP?
I grew up in Central New Jersey and funny enough I actually saw racial diversity play out in much the same way. The state is very diverse but when you look at each county or town on it's own, it quickly becomes monochrome. If I remember correctly, our county was about 85% white; my siblings and I grew up joking that "we were the diversity" in our schools and neighborhoods.
HOW DID YOUR PARENTS MEET?
My mom grew up in Cleveland, Ohio and met my dad after he was drafted to the Cleveland Browns.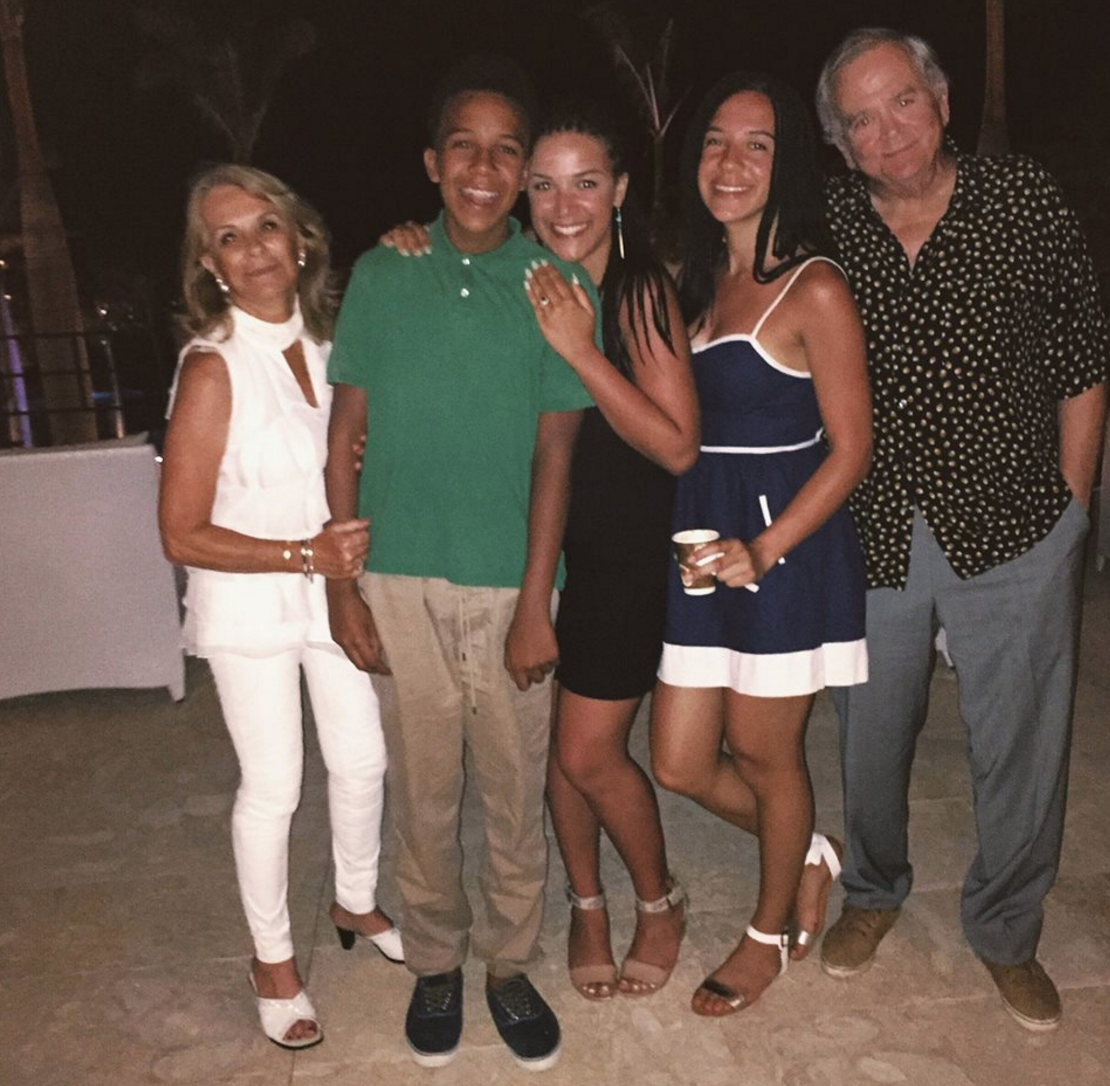 WERE THERE ANY SIGNIFICANT OBSTACLES IN THEIR RELATIONSHIP CORRELATED TO YOUR BACKGROUNDS?
Absolutely. My parents fell in love in the 80's, at which point feel like you'd be hard pressed to find an interracial relationship that didn't face significant obstacles. My parents were discouraged by peers and isolated from family members. They were turned away by potential landlords and had their cars and homes vandalized by ignorant people motivated by hate. I'm so grateful for their perseverance and forgiving hearts because they have never shown any bitterness despite the pain these experiences must have caused.
HAS YOUR EXTENDED FAMILY ALWAYS BEEN SUPPORTIVE OF YOU BEING MULTIRACIAL/BIRACIAL?
While my extended family always saw the good in my parents' relationship, they pushed back at first because they were worried about how the world would accept their love. I think they'd all be comfortable with me saying that a huge part of that fear revolved around the idea of the biracial babies they would one day create. Thankfully, the world has come a long way in the last three decades and my extended family has embraced that there is less to fear and more to celebrate about being multiracial.
DID YOU CELEBRATE TRADITIONS FROM BOTH SIDES OF YOUR FAMILY?
Our family has been big on creating our own traditions, though there are some small things that have definitely been passed down from my mom and dad's childhoods. My mom's family takes gift giving about as seriously as my dad's family takes food, so, as you can imagine, growing up in our house Christmas was just excessive all around.
WERE THERE MULTIPLE LANGUAGES SPOKEN IN YOUR HOUSEHOLD?
Nope, just English unfortunately.
WHAT DO YOU ENJOY MOST ABOUT YOUR CULTURAL BACKGROUND?
My mom and dad's families are opposites in nearly every way. From education, to race, to socio-economic status, to political views, to geographic identity - everything is just different. While this has been difficult to navigate at times, I love that growing up with such extreme diversity in my own family has instilled in me a comfort in almost every circumstance. It is very hard for me to find a room in which the social dynamics feel foreign - I almost always feel ownership of my surroundings which I believe is a real privilege compared to my friends who grew up with limited exposure to different types of people and world views.
WHAT ACTIONS DID YOUR PARENTS TAKE TO TEACH YOU ABOUT YOUR DIFFERENT BACKGROUNDS?
My parents always made an effort to treat my siblings and I as adults. Instead of trying to shield us from the realities of race relations in our country, they made the decision early on to talk to us about what was happening in the world. I really appreciated that I was rarely surprised by experiences of prejudice or ignorance I experienced outside of our home because there was so little that we did not discuss around the dinner table.
DID YOU TALK ABOUT RACE A LOT IN YOUR HOUSEHOLD WHEN YOU WERE GROWING UP?
Absolutely. My parents knew that the world would teach us about race one way or another and decided to get ahead of it by engaging us in positive conversations about race. In fact, my first few essays on race were submitted to contests and little publications before I was in second grade and as precocious as I may have been, I would not have been writing about Martin Luther King as a 6 year old without having first learned about the importance of his work from mom and dad.
DO YOU IDENTIFY AS MIXED OR SOMETHING ELSE?
I identify as multiracial and am passionate about acknowledging all of who I am when discussing my racial and ethnic identity.
DOES RACE WEIGH INTO WHO YOU CHOOSE TO DATE?
Race is not a significant factor in who I choose to date, but I could never be with someone who isn't woke when it comes to social inequality and the somber state of race relations in our country today. I'm too passionate about these issues to date someone who doesn't see that there is work to be done.
WHAT DOES BEING MIXED MEAN TO YOU?
To me, being mixed is a balancing act. I feel grateful to have access to twice as much beauty and love and diversity in this world than I might if I weren't mixed. At the same time, there is part of me that is constantly trying reconcile the pain that one half of my ancestry has caused the other half. Ultimately, being mixed guarantees a deeply rewarding lifelong experience of being able to ask yourself and those around you hard questions that most people never have to think about - all the while discovering more and more about yourself and what you have to contribute to the world.
DO YOU HAVE A LOT OF FRIENDS WHO ARE MIXED?
I do! I feel blessed to have an insanely beautiful and diverse group of friends. My best friend from childhood is Chinese and Ukranian, my best friend from high school is Syrian, Portuguese, Lebanese and Ukranian and my boss who has quickly one of my dearest friends is Native American and French Cajun. This is a tiny sample of all the multiracial people I'm grateful to call friends, but paints an awesome picture of just how diverse a community we, multiracial Americans, are.
ARE THERE ANY COMMENTS YOU ARE REALLY TIRED OF HEARING FROM PEOPLE IN REGARDS TO RACE/CULTURE?
I hate when people ask, "What are you?". I know there is no malice behind the question, but it's so dehumanizing when you think about it. People are so afraid to offend by making things "racial", even when asking a question that is so clearly about race, that they water it down to a question that feels as if it's challenging my existence as a whole. What do you mean - what AM I? I'm a human, a woman, a sister, a daughter, a friend, an activist, a cookie-dough addict. Oh? You want to know what color my parents are? Why didn't you say so?
WHAT IS YOUR DREAM FOR THE FUTURE OF AMERICA IN REGARDS TO RACE?
Well that's a tough one. I want to live in a world where every American can celebrate the rich history of his or her own culture while knowing that, regardless of the color of their skin, the playing field is even for everyone. I'd like to live in a world where white fans rioting after a big win are just as likely to be called thugs as their black counterparts and where black students earn college degrees at the same rate of their white peers.