I am very excited to share the Skalski-Magee family with everyone this week! Celeste and I went to High School together and have stayed in touch over the years via social media and most recently when her husband Gordon was a featured artist in an art show I organized! They are a talented and dynamic family and I know you will enjoy getting to know them!
-jen
MEET THE SKALSKI-MAGEE FAMILY
Gordon Skalski, age 48
Scottish/American
Celeste Magee, age 38
Filipino by blood but English/Scottish by adoption
Angelica Harper, age 18
American/Filipino
Ophelia Skalski, age 4
Scottish/American/Filipino
WHERE DO YOU LIVE?
Victorville, CA
HOW DID THE TWO OF YOU MEET?
Gordon and I met at Barnes & Noble in Victorville in the art section.
WERE THERE ANY SIGNIFICANT OBSTACLES IN YOUR RELATIONSHIP CORRELATED TO YOUR BACKGROUNDS?
No
WHAT TRADITIONS DO YOU CELEBRATE IN YOUR HOME?
Every Christmas my family celebrates the traditional English/Scottish Crackers during Christmas dinner. After pulling the crackers we read out loud the jokes, poems, that are inside the crackers, show each other the trinkets that we got from the crackers, and wear our colorful hats that came with the crackers, and then start our Christmas dinner.
WHAT IS YOUR FAVORITE CULTURAL FEATURE/TRADITION OF YOUR SPOUSE'S RACE?
The Christmas Crackers is a huge deal in our house. Attending the Highland Games (Scottish Festival) every year is another tradition in our family.
IS THE COMMUNITY YOU LIVE IN DIVERSE?
Yes
DO YOU OR YOUR PARTNER SPEAK IN MORE THAN ONE LANGUAGE IN YOUR HOME?
I understand the filipino language but have a hard time speaking the language. My daughters only know certain filipino words. We would love to have our kids know the filipino language and scottish gaelic.
ARE YOUR EXTENDED FAMILY SUPPORTIVE OF YOUR MULTIETHNIC RELATIONSHIP?
Yes
WHAT DO YOU ENJOY MOST ABOUT YOUR PARTNER'S ETHNIC-CULTURAL BACKGROUND? Gordon loves Filipino food. I myself love Scottish kilt/clothing and scottish Gaelic music
DID YOU FIND BIG DIFFERENCES IN THE WAY YOU GREW UP VS. YOUR SPOUSE DUE TO DIFFERENCES IN RACE?
Probably the food we ate. My dinner growing up consisted of Filipino food. I slept on the floor the first 6 years of my life, no running water, and using a well to get water.
WHAT IS THE MOST SURPRISING/UNEXPECTED THING YOU'VE LEARNED ABOUT EACH OTHER'S CULTURE?
Gordon was surprised to learn that there are 175 dialects in the Philippines. Also, Gordon is used to a family that is somewhat matriarchal in its foundation, where the women are pretty outspoken and in the Filipino culture the women are very similar in their strengths, but alot more reserved about it. Most people obtain most of their knowledge about Scottish history from watching braveheart.. Gordon's family is very connected to their history and I was really surprised to learn of the years of oppression that the Scots endured at the hands of the British.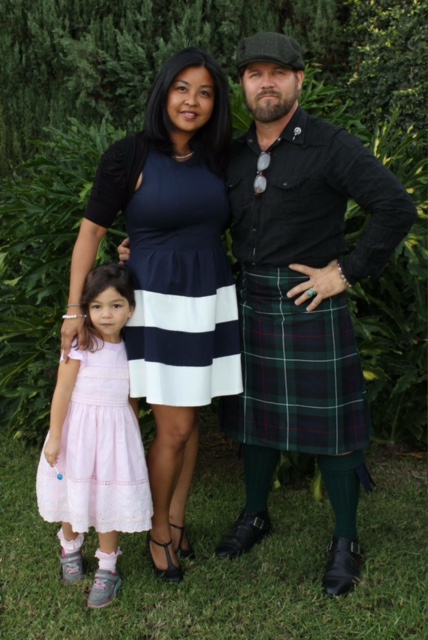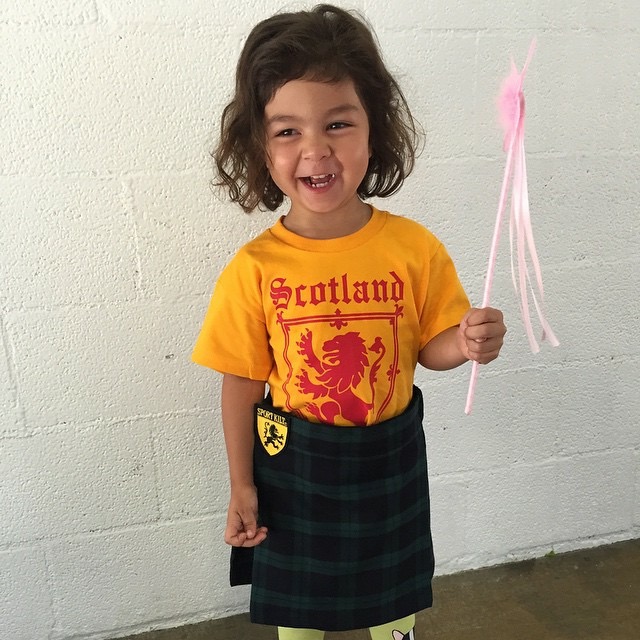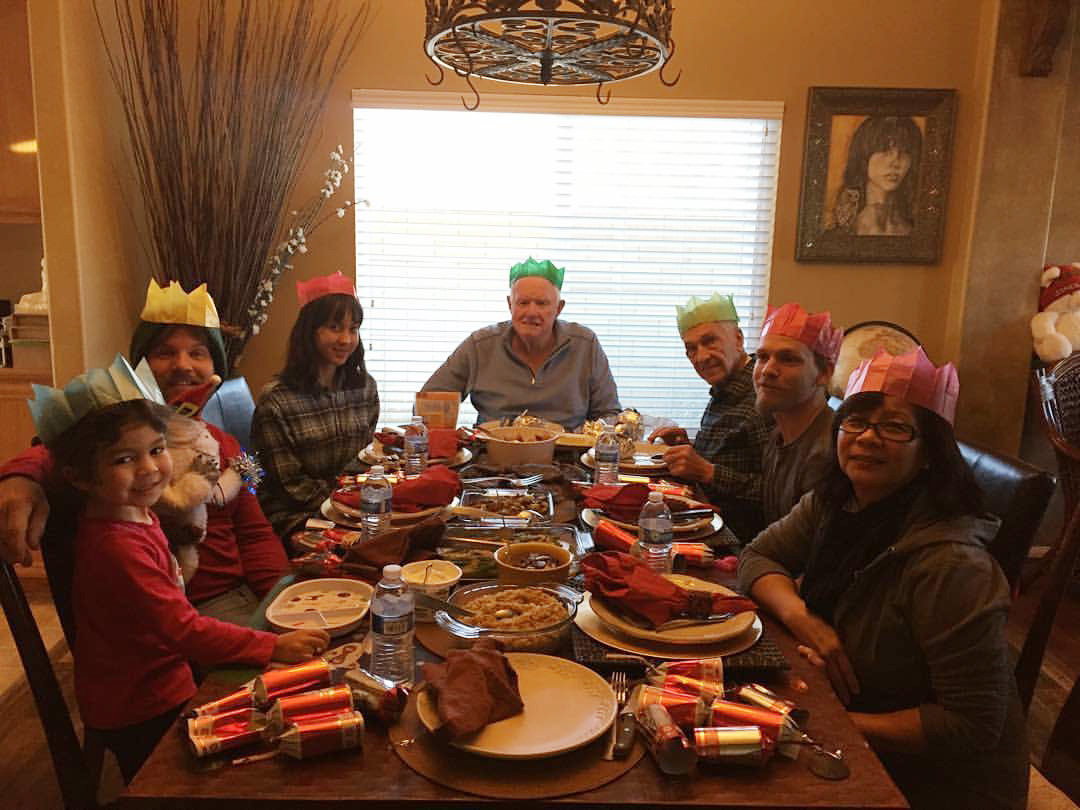 ARE THERE ANY COMMENTS YOU ARE REALLY TIRED OF HEARING FROM PEOPLE IN REGARDS TO RACE/CULTURE?
Gordon gets tired of hearing people call his kilt a skirt and assuming that most Scots are alcoholics...Haha! Celeste gets tired of people asking if she's Korean, Chinese or some other asian ethnicity.
WHAT ACTIONS HAVE YOU TAKEN TO TEACH YOUR CHILDREN ABOUT EACH OF YOUR BACKGROUNDS?
We went to Scotland last year and visited the very place where Gordon's ancestors came from. Cooking Filipino food, going to Scottish festivals, going to alot of Filipino gatherings. Teaching our kids about their Scottish and Filipino ancestors.
HAVE YOUR CHILDREN ASKED ABOUT RACE?
No
DO YOUR CHILDREN IDENTIFY AS MIXED OR SOMETHING ELSE?
Angelica Harper identifies herself as mixed
HOW DO YOU RAISE YOUR CHILDREN TO HONOR DIVERSITY IN OTHERS?
We both fully understand what it took for our ancestors to get to America. They endured many hardships and worked hard to survive against mounting odds. We want our kids to be grounded in that foundation. We reinforce that it doesn't matter where you came from or the color of your skin, but that we are all the same underneath. What matters is how you treat others. Our kids are encouraged to accept everyone regardless of their race. We put a huge emphasis on the arts, and self expression. We stress self awareness and we discuss world events on a regular basis.
WHAT UNIQUE CHARACTERISTICS DO YOUR CHILDREN HAVE FROM YOU AND YOUR PARTNER?
Celeste says all of the stubborn traits come from the Scottish side (She's probably right) Our youngest daughter Ophelia is a crazy combination of both of us. Nobody can really say which one of us she looks like, although most people agree that she has Gordon's Mom's crazy curly hair. This was further confirmed by an elderly Scottish woman (while we were visiting Scotland) that said Ophelia had a good mop of Scottish hair. Angelica has beautiful almond shaped eyes that are definitely a unique Filipino trait.
WHAT DOES BEING MIXED MEAN TO YOUR CHILDREN?
Angelica Harper is proud of who she is. She feels mixed is beautiful and loves diversity. We plan on teaching Ophelia that being mixed is a wonderful thing and that America is really a melting pot of ethnicity. It's what makes us a strong nation.
WHAT IS YOUR DREAM FOR YOUR CHILD'S FUTURE AND THE FUTURE OF AMERICA IN REGARDS TO RACE?
It's simple. We want them to grow up in a world where people are accepted. We want them to live in a world where they are not subjected to senseless scrutiny or violence because of the color of their skin or their family heritage. Hopefully we've given them the tools to change things for the better when they become productive citizens. We want them to be proud of where they come from.