Melisa Brooke Alvarez, 33 years old
WHAT MIX ARE YOU?
My Father is Spanish, Mexican and Native American (Navajo), and My Mother is Norwegian and Creole.
WHERE DO YOU CURRENTLY LIVE?
I currently reside in the beautiful tiny town of Campbell, California.
IS THE COMMUNITY YOU LIVE IN NOW DIVERSE?
Very Diverse. It's the typical California Silicon Valley melting pot. People from all over the world, from every culture, race and religion live in my neighborhood.
WHERE DID YOU GROW UP?
I grew up in the same town I live in now, although I haven't always lived here. My paternal side of the family has very deep roots in Campbell. In fact, I live across the street from what was once the High School that my Grandparents met and fell in love at. I feel like most kids around here, even when I was a child, were mixed to some extent, but I definitely had plenty of mixed friends.
HOW DID YOUR PARENTS MEET?
My parents met at work. Memorex in the 1980's. My paternal grandmother was their boss.
WERE THERE ANY SIGNIFICANT OBSTACLES IN THEIR RELATIONSHIP CORRELATED TO YOUR BACKGROUNDS?
My Dad's grandmother NEVER accepted my mother. I don't know if that had to do with race, or if she really was just a cantankerous bitch that people say she was. My dad was the first born grandchild, and a clear favorite, so whoever he had married would have been up against a large amount of scrutiny. My mother's family has always loved and supported my father. They welcomed him with open arms and plenty of nicknames. But think you have to remember this was Bay Area, California in the 1980's. This is a liberal place now, and it was then too. My parents used to spend their days roller-skating around the hills of San Francisco, listening to music and smoking pot. I would imagine not everyone had such an easy road. I know that my maternal Grandmother (who was a black woman that married a white man) ran into obstacles in regards to race, her children, and her marriage in society, but we've always been a very accepting family on both sides.
HAS YOUR EXTENDED FAMILY ALWAYS BEEN SUPPORTIVE OF YOU BEING MULTIRACIAL?
Yes. They have to be. They all are too :)
DID YOU CELEBRATE TRADITIONS FROM BOTH SIDES OF YOUR FAMILY?
We are not so much of a tradition based cultural family. My mom has always been very clear with me and my brother that even though we may not look black, we are black, and that culture is ours to cherish. Music is a huge part of any celebration we have, especially Jazz and R&B. My Dad's family used to be very big on Catholic traditions, but as the older generation has passed away, those traditions have also fallen away. I'm not sure if that answers your question, fully, but we just don't have a formal way of being all together anymore.
WERE THERE MULTIPLE LANGUAGES SPOKEN IN YOUR HOUSEHOLD?
Nope. Maybe the occasional scrap of creole from my mother. My Father's paternal grandparents didn't teach any of their children to speak Spanish, as at the time in Campbell, being mexican, or speaking spanish was very frowned upon. None of my father's aunts or uncles, or cousins speak Spanish.
WHAT DO YOU ENJOY MOST ABOUT YOUR CULTURAL BACKGROUND?
MUSIC. Music is the great love of my life. Everything from sweet sad jazz standards to Fetty Wap. I love that on both sides of my family music is ALWAYS on. We're always experiencing life with a soundtrack. There is not one memory I have of a family get together where there was no music playing. And the music was always somewhat culturally significant. Sade. Nancy Wilson. Donny Hathaway. Nina Simone. Both of my parents have STACKS of vinyl.
WHAT ACTIONS DID YOUR PARENTS TAKE TO TEACH YOU ABOUT YOUR DIFFERENT BACKGROUNDS?
I can't recall them ever taking any actions, but I think that's because I grew up where I grew up. San Jose has Juneteeth festivals and Cinco De Mayo Parades. It was the perfect place to grow up with these cultural roots.
DID YOU TALK ABOUT RACE A LOT IN YOUR HOUSEHOLD WHEN YOU WERE GROWING UP?
Not in a way that remember other than just to be proud of who I am and where I come from. To be proud that I'm a part of so many cultures.
DO YOU IDENTIFY AS MIXED OR SOMETHING ELSE?
I identify as a multi-racial heterosexual woman.
DOES RACE WEIGH INTO WHO YOU CHOOSE TO DATE?
It doesn't. I currently am dating someone and they are white, but it wasn't a factor in choosing them, and isn't really something I even think about as a qualifying factor.
WHAT DOES BEING MIXED MEAN TO YOU?
Being mixed means to me that all you really need in life is love. Look at what love created! This whole new person with all of these roots and histories and ancestors who never dreamed of the possibilities that I have available today. Love is colorblind. And that is amazing!
DO YOU HAVE A LOT OF FRIENDS WHO ARE MIXED?
You know, I don't really know if many of my friends are mixed. I guess that's terrible, but I just don't even ask people, if it doesn't come up, I'll never know. I have two very close best friends and one is white and the other is black.
ARE THERE ANY COMMENTS YOU ARE REALLY TIRED OF HEARING FROM PEOPLE IN REGARDS TO RACE/CULTURE?
I hate hate hate being asked "What are you?" I'm a human being. End of story. I've been asked that question in so many ways over the past 30 years, that I just have no patience for it.
WHAT IS YOUR DREAM FOR THE FUTURE OF AMERICA IN REGARDS TO RACE?
I would love for Americans to realize that love is blind to so many things. Gender. Religion. Race. Get comfortable in that space, because opening up to that reality will change so much for us as a society.
I understand that when you're on the top that equality FEELS like oppression, but feelings aren't reality. Come from a place of compassion and love towards your fellow human and we can all be amazed at the world we can create with that love.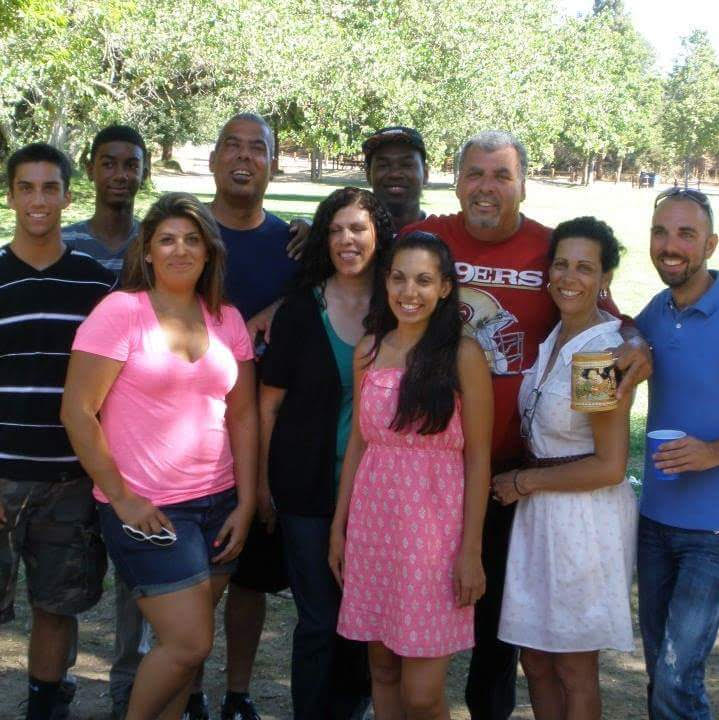 You can connect with Melisa on Twitter