Chanel Bosh
WHAT MIX ARE YOU?
My mother is African American & my father is Puerto Rican (with some white thrown in there somewhere, but that's where it gets messy)
WHERE DO YOU CURRENTLY LIVE?
Los Angeles
IS THE COMMUNITY YOU LIVE IN NOW DIVERSE?
As a whole, I'd say LA is diverse.
WHERE DID YOU GROW UP?
I grew up in a military family, so I moved around a bit. There were other mixed kids in some of the stops. There was a particularly diverse community when we lived overseas in Turkey. We lived in Izmir, which was a NATO town. The kids at my school were the children of the different people working at NATO, so by default there was diversity, as we came from all over the world. This was also the place where I knew the most mixed race kids.
HOW DID YOUR PARENTS MEET?
My parents met in Texas while attending college.
WERE THERE ANY SIGNIFICANT OBSTACLES IN THEIR RELATIONSHIP CORRELATED TO YOUR BACKGROUNDS?
There weren't really any significant obstacles that either of my parents can recall. However my mother's grandmother told my dad that my mom always liked "white or bright". My father's sister and my mom didn't quite get along and my aunt was odd towards my mother but my dad isn't 100% sure if it was related to race. According to my mom, my paternal grandmother didn't want my dad to date Black girls. My mother believes it was due to the treatment my grandmother received as a dark skin Puerto Rican - there was prejudice on the island and she also saw how it was in America as well, therefore she wanted to "better" the line by marrying White people.
HAS YOUR EXTENDED FAMILY ALWAYS BEEN SUPPORTIVE OF YOU BEING MULTIRACIAL/BIRACIAL?
As far as I know, yes.
DID YOU CELEBRATE TRADITIONS FROM BOTH SIDES OF YOUR FAMILY?
We celebrated American and Christian traditions. The only thing that was somewhat specific to culture or race was acknowledging/celebrating Juneteeth. My mother is from Texas, so that holiday is really important to the Black community there.
WERE THERE MULTIPLE LANGUAGES SPOKEN IN YOUR HOUSEHOLD?
No.
WHAT DO YOU ENJOY MOST ABOUT YOUR CULTURAL BACKGROUND?
I enjoy everything! I love both of my cultures. Each one has such a vibrant and rich history. I am so proud to be both, because I believe each culture that makes up my background, is very diverse. I love the music, as well as the food from each side. Both are steeped in soul and sazon!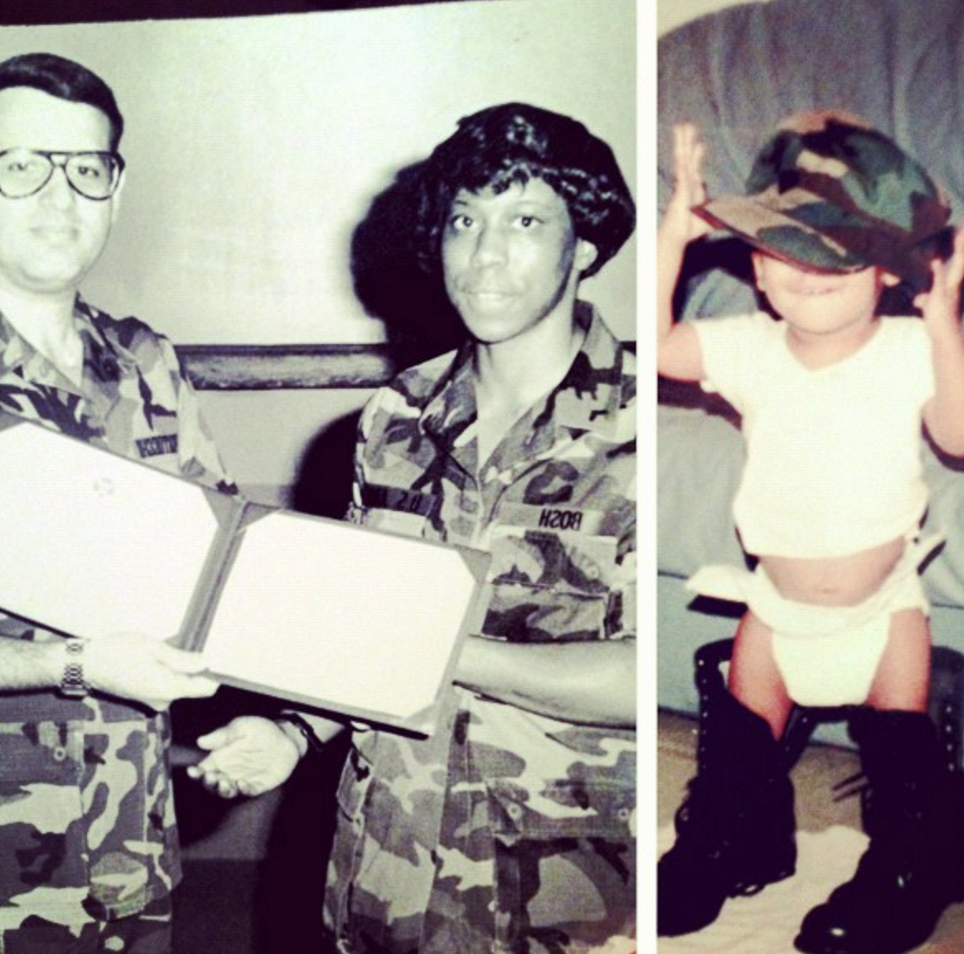 WHAT ACTIONS DID YOUR PARENTS TAKE TO TEACH YOU ABOUT YOUR DIFFERENT BACKGROUNDS?
As a kid, my mom and her mother enrolled me in Spanish classes (although, I never fully grasped the language). They also took me to many Black events, concerts, festivals, book signings, etc.
DID YOU TALK ABOUT RACE A LOT IN YOUR HOUSEHOLD WHEN YOU WERE GROWING UP?
Yes! For whatever reason, I have always been VERY interested in race and race relations. Even as a child. I am not sure where that curiosity came from, as I can't remember anyone in my family talking about race before I brought it up. Even my maternal grandmother has said, that I was just always curious and she had no idea where it came from. But my family was great in that they answered my questions, they took me to book stores and bought me all sorts of books, and they were patient with my curiosity even though I am sure, it was probably obnoxious or uncomfortable at times.
DO YOU IDENTIFY AS MIXED OR SOMETHING ELSE?
I identify as Black and Mixed. So I guess, I'd call myself a Mixed Black girl, if I had to sum it up.
DOES RACE WEIGH INTO WHO YOU CHOOSE TO DATE?
No, race has never weighed into who I've dated. I've pretty much always liked every one, but I will say I was similar to my mom when I was young, in that I tended to like more guys who were "light or white". I think this is because I identified most with them. As I got older, and began identifying more with Black people, I dated more Black men. And now I am single, and open to everything.
WHAT DOES BEING MIXED MEAN TO YOU?
Acknowledging all parts of yourself.
DO YOU HAVE A LOT OF FRIENDS WHO ARE MIXED?
I do have mixed friends. I have learned that oftentimes, the way we see ourselves and the way society sees us, differs.
ARE THERE ANY COMMENTS YOU ARE REALLY TIRED OF HEARING FROM PEOPLE IN REGARDS TO RACE/CULTURE?
I am tired of the fetishization of mixed people. I am also tired of people thinking that "mixed" means one specific thing. Not all mixed people are Black and White. Being mixed doesn't automatically make you more attractive. Not all mixed people have light skin and loose hair.
WHAT IS YOUR DREAM FOR THE FUTURE OF AMERICA IN REGARDS TO RACE?
That we will all realize race is a social construct based on skin color, and we will learn to simply appreciate different cultural traditions. The color of a person's skin does not automatically reveal their ethnicity or cultural background.
ANYTHING ELSE YOU WANT TO SHARE?
For me, it is important to claim and identify with all of my backgrounds because I find culture and history to be important. As a woman of color, I recognize that there is a lot of my history and culture which have been erased over time. Therefore, I think it is really important to know and cherish that which we do know. As humans, we are not really all that different from one another. Where we differ is in culture and tradition. That is what makes us unique and that is what we should value and appreciate in one another.