Ivette Garzon, age 25
WHAT MIX ARE YOU?
I mainly only say Panamanian and Colombian, as my mother is Panamanian and my father is Colombian. But if I were to give someone a full breakdown I am Panamanian, Colombian, Peruvian, and Chinese. My grandparents on my mother side is where the Peruvian and Chinese comes from. Grandmother is Panamanian and Chinese and my grandfather is of Peruvian descent.
WHERE DO YOU CURRENTLY LIVE?
Austin, TX
IS THE COMMUNITY YOU LIVE IN NOW DIVERSE?
As Austin is constantly growing there are new people from all over the country moving to the fast growing and "cheap" living of Austin.
WHERE DID YOU GROW UP?
I am from Killeen, TX. Killeen is a military town that has soldiers and families from everywhere always passing through. This town is one the reasons why I am so in love with different cultures. Most of my friends were always mixed with one or two different races like myself.
HOW DID YOUR PARENTS MEET?
My mother and father met when my belated aunt passed away. My father was a close family member's best friend at the time. When my aunt passed he came over to pay his respect and was introduced to my mother.
WERE THERE ANY SIGNIFICANT OBSTACLES IN THEIR RELATIONSHIP CORRELATED TO YOUR BACKGROUNDS?
There were no real obstacles related to their backgrounds. Panama and Colombia are border countries and Colombia once ruled over Panama, so at one moment in time we were one people.
HAS YOUR EXTENDED FAMILY ALWAYS BEEN SUPPORTIVE OF YOU BEING MULTIRACIAL/BIRACIAL?
Yes, my extended family is extremely diverse itself. I have cousins who are Panamanian/Italian, Panamanian/Puerto Rican, Panamanian/Black, Colombian/Jamaican, Colombian/Venezuelan. My family has always believed in love and never in races or color.
DID YOU CELEBRATE TRADITIONS FROM BOTH SIDES OF YOUR FAMILY?
I do celebrate traditions more so from my Panamanian side only as a result of being raised mainly around my mother and her side. They are traditions that my mother celebrated when she was growing up and just have been passed down through the generations such as Panamanian Mother's Day (which is celebrated in December instead of May).
WERE THERE MULTIPLE LANGUAGES SPOKEN IN YOUR HOUSEHOLD?
Yes, being as we are mainly a military family it was passed down that Spanish would be spoken in the household and English outside. Since we were always moving around, my mother wanted to keep us fresh on our Spanish and to never lose it.
WHAT DO YOU ENJOY MOST ABOUT YOUR CULTURAL BACKGROUND?
I love everything about my cultures. The foods on both sides are to die for, and I have always enjoyed the bonding experience of learning new recipes along side my grandmother and mother. Pollera is the traditional dress of the woman in Panama that is used in cultural dances. Growing up I admired seeing pictures of my grandmother dressed in her traditional attire. I have always enjoyed the music and dancing, I believe the dances are beautiful and when watching older couples you are able to see the love and connection between them. In Killeen, they have an annual Panamanian Festival that celebrates the culture, country and I love being able to attend and see people.
WHAT ACTIONS DID YOUR PARENTS TAKE TO TEACH YOU ABOUT YOUR DIFFERENT BACKGROUNDS?
Both my parents made it a point to have me to pick one of the countries for any school projects so that I could learn things about the countries on my own. Individually they made sure that I spent as much time as I could with my grandparents to hear the stories and traditions that both have carried to the states.
DID YOU TALK ABOUT RACE A LOT IN YOUR HOUSEHOLD WHEN YOU WERE GROWING UP?
My mother emphasized on race more than my father, she never wanted me to see color. She had a hard time growing up and wanted to prevent me from being a close minded child that she had encountered growing up. When my grandparents arrived to the US segregation was at it's peak. From the surface my grandfather appears black and my grandmother white. Needless to say it caused quite a few struggles as they go adjusted to the US. Those struggles trickled down to my mother and her siblings as they were grew up. My mother and her siblings are different shades, and while in school they were constantly asked whether they were black or white not many understood that they were simply Hispanic.
DO YOU IDENTIFY AS MIXED OR SOMETHING ELSE?
I definitely identify either as mixed or Panamanian/Colombian.
DOES RACE WEIGH INTO WHO YOU CHOOSE TO DATE?
Race does not weigh into who I date, I just vibe with who I vibe with. It always helps if my partner knows some Spanish simply because I have older members who still are not very fluent in English, but it has never been a deal breaker. I have always been open minded, I don't have a particular type when it comes to looks. My past few boyfriends have been black, but it was simply because that was who I connected with at the time.
WHAT DOES BEING MIXED MEAN TO YOU?
Being mixed means a combination, the joining of different "ingredients" to produce something unique and valuable. My heritage, my cultures, and my traditions are things that can never be taken away from me. They have been embedded and intertwined to the roots of who I am, I could never strip them from me if I wanted to. It is what makes me, me.
DO YOU HAVE A LOT OF FRIENDS WHO ARE MIXED?
I do have a lot of friends/family of mixed backgrounds, so growing up I was able to learn how to blend both sides of my cultures. When I was younger I associated with one side more than the other because I grew up around it more, but my friends showed me that I can make my own connection and discovery of the culture that I wasn't as tied to. It led me explore and connect to my cultures on my own and learn what they meant to me individually and combined.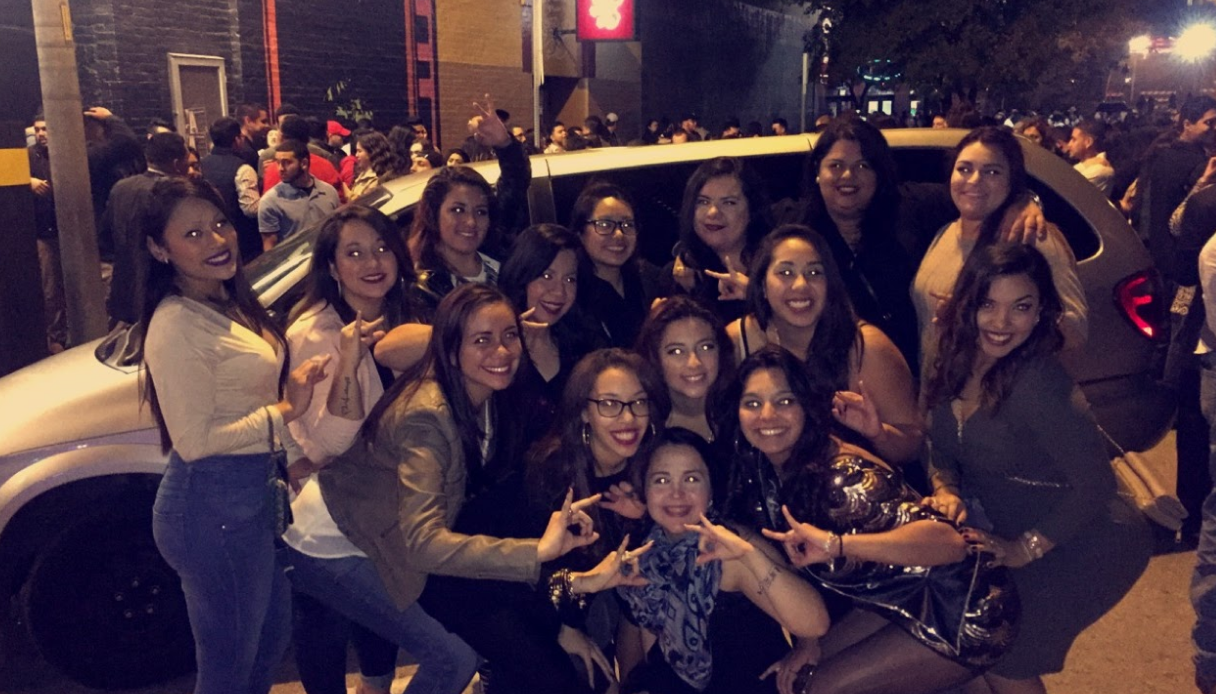 ARE THERE ANY COMMENTS YOU ARE REALLY TIRED OF HEARING FROM PEOPLE IN REGARDS TO RACE/CULTURE?
My biggest pet peeve is when people ask "What are you mixed with?", which on it's own does not bother me. From first glance you can't tell my race by my features because I am such a blend of many. The issue follows that once I tell them they respond with "are you sure you aren't mixed with _____?". I'll politely smile and confirm that I am sure that I am of the races I stated previously. To which the question then turns into them laying a case in front of me of why they believe that I am wrong and they are correct. No matter how much I confirm my races they continue to defend why they believe I am mixed with more.
Another would be once they have finally believed my races and hear that I am of Spanish speaking races. They'll ask if I can speak Spanish, which there is nothing wrong with because it's something I ask people all the time as well. It's when I confirm that I can that the pet peeve arises, they again need some sort of validation in my truth and respond with, "Say something in Spanish then". I should not have to prove to you that I can speak the language, just know that I am what I say I am.
WHAT IS YOUR DREAM FOR THE FUTURE OF AMERICA IN REGARDS TO RACE?
My dream and hope is that America will become more open to biracial and multiracial individuals. That there will be more representation not only on tv but in the ads that we see everyday and the role models that are society promotes. I want my future children to see images of people who look like them and know they are unique and smart enough to be just like those people. They should be able to see images of families that look like theirs and see that it is normal. I dream of a more open minded and accepting America.
You can connect with Ivette on Instagram and Snapchat @Amariah105