Suzie Asmar Strong; age: shhhhhhh
WHAT MIX ARE YOU?
Lebanese, German, Irish, Osage, Spanish, English.
WHERE DO YOU CURRENTLY LIVE?
Los Angeles
IS THE COMMUNITY YOU LIVE IN NOW DIVERSE?
I live in a small, primarily latino neighborhood a few miles north of DTLA called Cypress Park. It is not diverse in that it's mostly Latino. Downtown Los Angeles, where my work studio is, however, is very diverse.
WHERE DID YOU GROW UP?
I grew up in the suburbs of Seattle. I went to an alternative elementary school where we had the only ESL program in the area, so we had lots of kids from around the world, mostly from Asian countries: the Philippines, Japan, Laos, Cambodia, India, Pakistan, etc. The overall community, however, was definitely not diverse, consisting of primarily white families, but sprinkled with a few Asian and black families. I had a few Persian friends, but there were very few middle eastern (or mixed middle eastern families) aside from us.

There were not a lot of mixed kids, but I had friends who were also of mixed race and/or non-white.
HOW DID YOUR PARENTS MEET?
My parents met in college just outside of New Orleans, where they grew up.
WERE THERE ANY SIGNIFICANT OBSTACLES IN THEIR RELATIONSHIP CORRELATED TO YOUR BACKGROUNDS?
I don't recall my parents talking about obstacles for them as a couple. My parents moved from New Orleans to the Bay Area when my sisters were little. My sisters and I were pretty tan, with our olive skin and being outside all the time in the California sun. My mom (german, black Irish, and Spanish) is olive skinned, but fair, so it was not uncommon for strangers would ask her if we her kids.
HAS YOUR EXTENDED FAMILY ALWAYS BEEN SUPPORTIVE OF YOU BEING MULTIRACIAL/BIRACIAL?
My family, especially the older generation, doesn't always think of themselves as multi-racial, although we've all experienced bias and prejudice for it. I think my generation and the younger generation more clearly understand what it means to be not of the majority.

DID YOU CELEBRATE TRADITIONS FROM BOTH SIDES OF YOUR FAMILY?
Everyone in my family who immigrated into America came through New Orleans, rather than Ellis Island. Most people immigrated at least 2 generations ago, so the individual cultures were fairly integrated by the time we were being raised. Our family culture and traditions mainly reflect the culture of New Orleans, which is a beautiful quilt of many types of people. Our home was always a southern island on the west coast.

I did, however, grow up with lots of Lebanese food prepared by my dad and grandfather.
WERE THERE MULTIPLE LANGUAGES SPOKEN IN YOUR HOUSEHOLD?
My family speaks only English. I speak Spanish however. I learned Spanish in school, spent two summers in Guatemala, and minored in Spanish Language in college.
WHAT DO YOU ENJOY MOST ABOUT YOUR CULTURAL BACKGROUND?
Both Lebanese and New Orleans cultures have very strong family and extended family ties. We are there for each other no matter what. We support each other through celebrations and tribulations. I'm super grateful for my loving and supportive family. Both New Orleans culture and my Lebanese-American family are very welcoming as well. Friends are always welcome in the home, even for family celebrations.

I also loooooove Lebanese food so much! I am mostly pescatarian, but I do eat lamb, which is a very traditional Lebanese meat. I also love New Orleans food, of course. Who doesn't?!
WHAT ACTIONS DID YOUR PARENTS TAKE TO TEACH YOU ABOUT YOUR DIFFERENT BACKGROUNDS?
We love to cook and eat. A lot. My parents taught me how to make traditional Lebanese and New Orleans dishes.

They definitely instilled a deep love of family and friends and that it's important to create a welcoming and comfortable home for anyone who walks through the door.
DID YOU TALK ABOUT RACE A LOT IN YOUR HOUSEHOLD WHEN YOU WERE GROWING UP?
Not so much. I remember coming home from elementary school crying, telling my mother that the other kids were teasing me about my last name and the shape and color of my eyes. I didn't understand that I was different at that time and I also didn't understand why my name and features were something to be made fun of. She did her best to console me, but we didn't talk about it that much. As I got older, I definitely had a lot of questions about how it was for my dad, who is Lebanese, growing up in a community where people identified as either white or black (with not a lot of room or understanding for "in-between" people).
DO YOU IDENTIFY AS MIXED OR SOMETHING ELSE?
I identify myself as ambiguously brown. Haha! But in all seriousness, I identify myself mostly as mixed Lebanese and white. My whole life, I've been asked, "What are you?", "Where are you from?" or "Are you ________ (insert any brownish race)?" hence the joke about being ambiguously brown.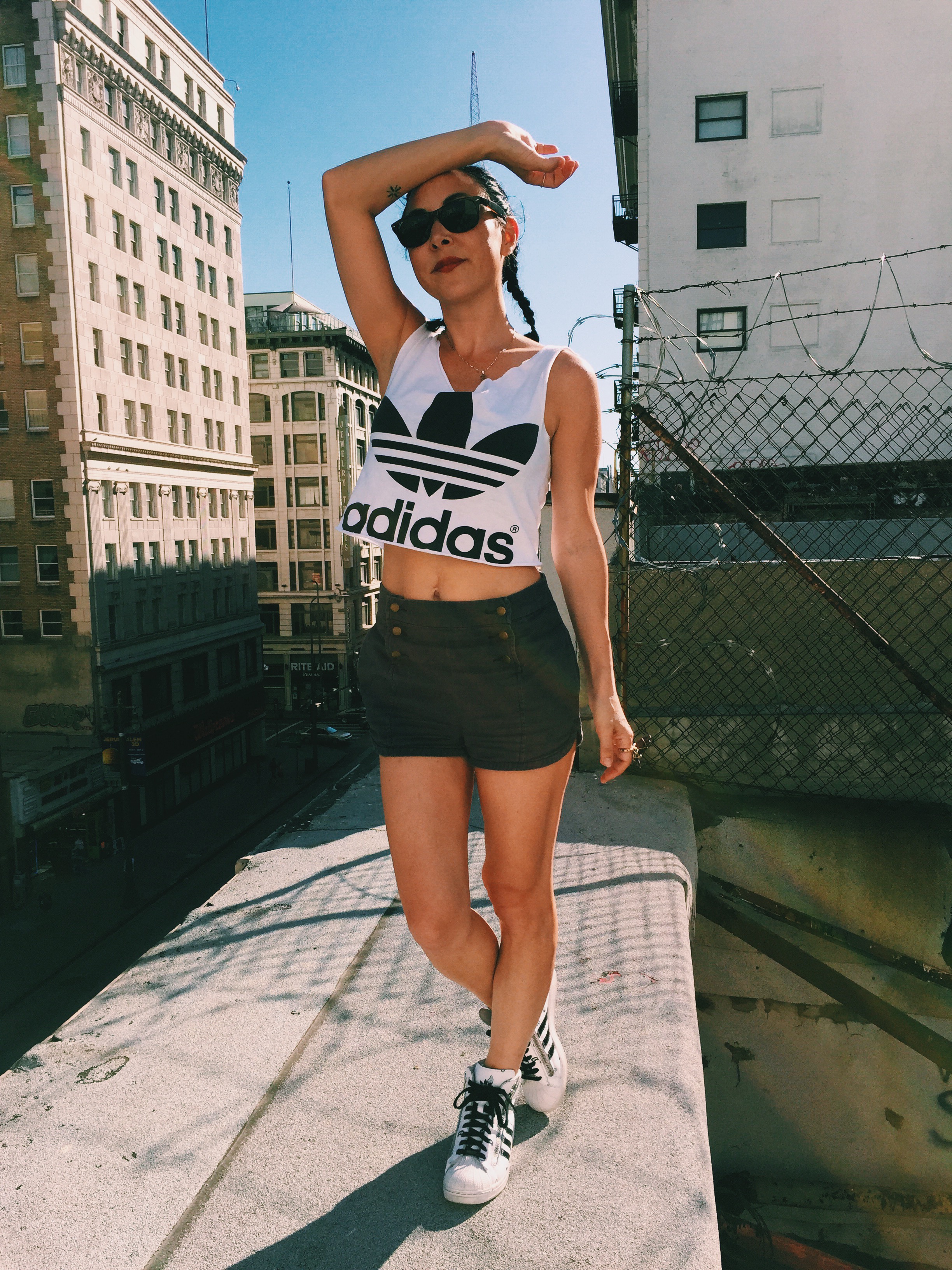 Fun fact: my eyes were brown until I was 12, when they lightened up and turned green. I have no explanation for that as no one else in my family has green eyes. My light eyes and freckles seem to throw everyone off.
DOES RACE WEIGH INTO WHO YOU CHOOSE TO DATE?
Race does not play a part with whom I choose to hang out. I'm an equal opportunist as long as you're smart, interesting, creative, hard working, but mostly funny.
WHAT DOES BEING MIXED MEAN TO YOU?
Being mixed means sometimes, it's hard to find your people.
It means I'm going to be asked a lot of questions about why I look the way I do.
It means I am very tolerant of and that I get along with lots of different types of people.

 
DO YOU HAVE A LOT OF FRIENDS WHO ARE MIXED?
When I went to college, there was a very diverse group of kids: black, latino, asian, mixed, etc. who were all into music, hip-hop and dance like me. They took me in and I had never felt more welcome in my entire life up to that point. I learned that I enjoy having friends that understand the difficulties of not being in the majority race. They were also the first group of peers to call me "beautiful" for my different looks and from that, I learned to appreciate and honor my unique physical qualities. And for sure it's nice to feel good about your exterior, but it's much more important to be beautiful on the inside.
Now, I enjoy friends and companions of all colors who are into art, music, food and family.
ARE THERE ANY COMMENTS YOU ARE REALLY TIRED OF HEARING FROM PEOPLE IN REGARDS TO RACE/CULTURE?
Although I know people are curious about my racial background, it gets tiresome explaining it. But I try to have empathy, because I wonder about people's backgrounds at times as well. If they're mixed and I'm curious, I wait until the moment feels natural, if I even have the desire to ask.

I do love that my kids (their dad is American of Scottish and English descent) never seem to care about race. I've asked them, "Is so-and-so maybe mixed with Japanese?" (or whatever) and they respond, "I don't know," because for their generation and in LA, it's irrelevant.
God bless this next generation.
WHAT IS YOUR DREAM FOR THE FUTURE OF AMERICA IN REGARDS TO RACE?
I love that the questions I was asked growing up never seem to be a part of the lexicon of my kids and their friends. It never crosses their minds to even think about that. They grew up with a mixed president and Beyonce being the queen of beauty, music, and feminine power, so to them, being mixed and or brown is neither out of the ordinary nor an obstacle. I think that's incredibly beautiful.

My dream would be that this perspective becomes the norm: where color does not incite an instant opinion, reaction, or judgement and that at the same time, we can celebrate cultural uniqueness.