Christy Jeziorski, age 35
WHAT MIX ARE YOU?
Filipino and Polish
WHERE DO YOU CURRENTLY LIVE?
I bounce back and forth between Denver and Palm Springs, and I frequent Miami. I'm a nomad.
IS THE COMMUNITY YOU LIVE IN NOW DIVERSE?
Denver? Yes, but it's a closet diverse type of place. Diversity is there, but as in many "great" cities, it is somewhat segregated. I made a part-time move to Palm Springs to be with my family, as my stepfather, who raised me, is elderly. In Palm Springs, it's pretty much the same deal. The majority of the population in the Coachella Valley (which Palm Springs is a part of) comprises of minorities, however, I feel like the culture and lifestyle is dominated by rich, country club Caucasians. I see a shift happening, however, it has more to do with the tourist economy, and many of the "great" things that are now offered in this town are still exclusive. I'll leave it at that. I often find myself in Miami for work, life, and love. It's full of brown beauty and it represents everything I love about life!
WHERE DID YOU GROW UP?
I was born and raised in Palm Springs, California, and It was diverse in the sense that I surrounded myself with my friends and family who happened to be minorities. It's the world that I knew. Not until I was older did I really begin to understand the dynamics of race on the makeup of the town, its economics, and so forth. I don't recall having many friends that were mixed, maybe several, but again, most of my friends happened to be minorities.
HOW DID YOUR PARENTS MEET?
My dad was working as a loan officer, and I believe that my mom paid a visit to make a mortgage payment for my grandparents. I guess she caught my dad's attention. She was a hottie, she got noticed everywhere.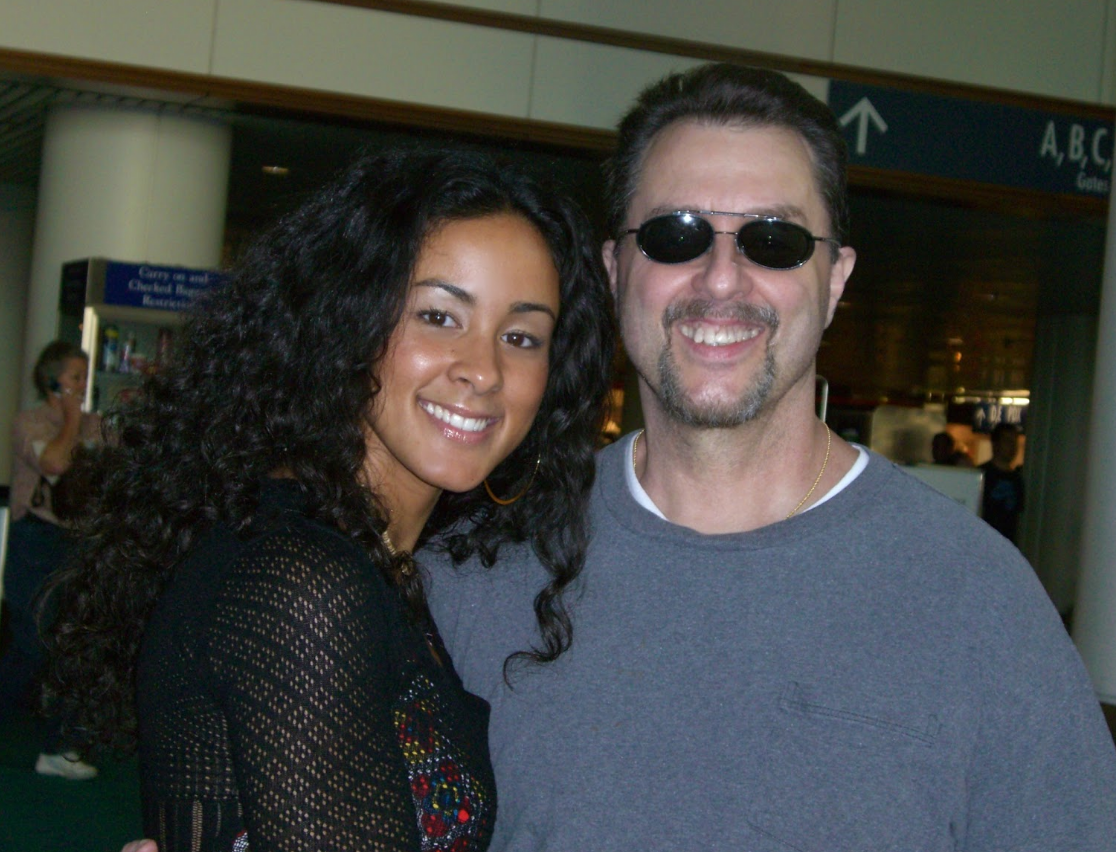 WERE THERE ANY SIGNIFICANT OBSTACLES IN THEIR RELATIONSHIP CORRELATED TO YOUR BACKGROUNDS?
I think I was lucky in the sense that my mom's family was welcoming to my dad, but also, my dad's family consisted of an awesome and open-minded group of people who didn't seem to care much about my dad marrying a Filipino woman.
HAS YOUR EXTENDED FAMILY ALWAYS BEEN SUPPORTIVE OF YOU BEING BIRACIAL?
I didn't really notice it until, once again, I understood more about dynamics of race. From the Filipino side, I was called a "mestiza" all of the time, and I realize that I was a prized part of the family for being mixed. As with many cultures, the notion of lighter skin and whiteness was something to be prized. It was a mark of status. So, in a sense, my mom "married up" since she married a white man, and had a half white child. So supportive? I guess. Prized? Absolutely. And to me, that's ridiculous. On my dad's side, I know that they think I'm exotic, and there may have been a little innocent envy when they saw how easily I tanned during the annual summer trip to the lake (wink wink). But seriously, nobody has ever made me feel singled out or uncomfortable. I've only experienced love. Regardless of race, I'm just "Chris" or "Chris-py" to my family, and I know they love me for crazy me.
DID YOU CELEBRATE TRADITIONS FROM BOTH SIDES OF YOUR FAMILY?
I grew up around my mom's family, and I am culturally as Filipino (and proud) as they get.
WERE THERE MULTIPLE LANGUAGES SPOKEN IN YOUR HOUSEHOLD?
English was spoken in the house, though I can understand the basics of Tagalog from being around my family. The Filipino Channel and the ABS-CBN network broadcasts at my mom's house 24/7, so that plays into my knowledge of the language as well!
WHAT DO YOU ENJOY MOST ABOUT YOUR CULTURAL BACKGROUND?
Our history and background, which is so mixed. Filipinos are a blend of Malay, Chinese, Spanish, African… You name it, it's in our blood. I'm so proud of that. I grew up eating Filipino food, and I love it when the time comes for indulging in it. I'm such a health freak that I can't eat Filipino food all of the time, which is typically salty and oily. My favorite desserts on the planet derive from the Philippines, and anything mixed with rice, coconuts, and mangoes make me feel at home.
I also love that because of my Filipino upbringing, I can relate to other cultures. Filipinos can relate to any and all Latin cultures because of the Spanish influence. We are also islanders, so there are many similarities in food and lifestyle that we have with people from island nations.
Unfortunately, I haven't had much experience with my Polish side, but I am always curious, and maybe one day I'll dive in.
WHAT ACTIONS DID YOUR PARENTS TAKE TO TEACH YOU ABOUT YOUR DIFFERENT BACKGROUNDS?
The arts have always been a powerful force in my family. My mother was an entertainer, and song and dance was what my mom and her family carried on to the States when they left the Philippines in the seventies. I was taught folk dances like the "Salakot" and the "Tinikling", and my mom and aunt would choreograph folk dances for community events, which we were always a part of.
My dad grew up in the midwest, and he was more of an all-American kind of guy who taught me about the beauty and power of soul music. That, to him, was one of America's greatest creations. Still, he shared stories about his upbringing and his experiences with his "busia" and "dziadek" ("grandmother" and "grandfather" in Polish), and often shared a Polish joke here and there. Does that count?
DID YOU TALK ABOUT RACE A LOT IN YOUR HOUSEHOLD WHEN YOU WERE GROWING UP?
Absolutely, but not in the sense that you would think. I was the one who questioned race at a very early age. It had more to do with the stigma and treatment of Black people that I noticed, and couldn't comprehend. I kept going on from there, which led me to my career and educational background dealing with culture and human rights. All I can say is that my immediate family is one of the most unconventional families that you'll find. My dad is Polish with a Catholic and Jewish background, his wife, my stepmother is Chicana, my mom, a devout Catholic immigrant from the Philippines, married to my stepdad, a WWII vet, atheist, and socialist. Then you have me, who is in love with African and Latin culture. Need I say more?
DO YOU IDENTIFY AS MIXED OR SOMETHING ELSE?
I identify as mixed.
DOES RACE WEIGH INTO WHO YOU CHOOSE TO DATE?
I'm sure people think it does, but I've been open to dating a palette of men, I just didn't bring them all home to meet the family, you know what I'm saying? Since I'm an entrepreneur and I work in entertainment, it's a standard for me to be with someone who is just as driven, understands the demands of my life, and matches my ambition and passion. However, I tend to migrate towards men with darker skin, cultural pride, and an eccentric style. Accents are a plus.
WHAT DOES BEING MIXED MEAN TO YOU?
It's just part of who I am. Does it define me? Sure, and that's okay. I can't think of being any other way. I am a minority - it's how strangers see me, and I'm conscious of that. It is how I experience life, and it's the foundation of my story.
DO YOU HAVE A LOT OF FRIENDS WHO ARE MIXED?
I have plenty of friends who are mixed, and I've learned about life in its entirety from them, and these experiences didn't always deal with being mixed. However, I noticed that they emanated things from one culture or the other, but I don't think it was because there was a choice that had to be made. We seem to go with what speaks to our souls, with what gives our lives meaning.
ARE THERE ANY COMMENTS YOU ARE REALLY TIRED OF HEARING FROM PEOPLE IN REGARDS TO RACE/CULTURE?
In general, the fact that people are blind to or downplay the issues that minorities face. Race is an issue because it is an issue, and it bothers me when people, who will never know the minority experience, have so much to say to discredit it. Add to that anything that comes out of Trump or a Trump supporter's mouth regarding race. But I won't get into that here.
WHAT IS YOUR DREAM FOR THE FUTURE OF AMERICA IN REGARDS TO RACE?
My dream is that race and culture will only be something that is celebrated and admired, rather than be something that's used as a means by which acts of injustice, abuse of power, and oppression occurs.