MEET THE COONS-WALKER FAMILY
Lauren Coons, age 23
· Caucasian (German)
Kody Walker, age 23
· African American
Kaison Walker/ 10 months
· Caucasian and African American
WHERE DO YOU LIVE?
Fayetteville, AR; but we are originally from Jefferson City, MO
HOW DID THE TWO OF YOU MEET?
We met through mutual friends when we were 13 and started dating when we were 14.
WERE THERE ANY SIGNIFICANT OBSTACLES IN YOUR RELATIONSHIP CORRELATED TO YOUR BACKGROUNDS?
I feel like we have always dealt with racism, but we have never let it affect us. People have always stared at us in public, but we just smile and go on with our day.
IS THE COMMUNITY YOU LIVE IN DIVERSE?
I would say that our community is predominately white.
ARE YOUR EXTENDED FAMILY SUPPORTIVE OF YOUR MULTIETHNIC RELATIONSHIP?
Absolutely! Our families have always supported us; it has never been an issue.
ARE THERE ANY COMMENTS YOU ARE REALLY TIRED OF HEARING FROM PEOPLE IN REGARDS TO RACE/CULTURE?
When I first had Kaison, people would talk about how white he was. I would just have to explain to them that he would get darker with time…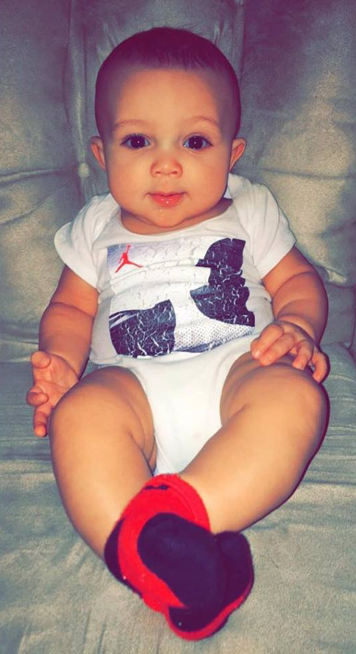 WHEN YOUR CHILD IS OLD ENOUGH TO ASK ABOUT RACE HOW WILL YOU EXPLAIN IT?
We will just explain to him that daddy is African American, mommy is Caucasian, and he is a beautiful mixture of both of us.
WHAT UNIQUE CHARACTERISTICS DOES YOUR CHILD HAVE FROM YOU AND YOUR PARTNER?
He is his daddy's twin!
HOW DO YOU PLAN ON TEACHING YOUR CHILD TO BE PROUD OF BEING MIXED?
Literature is a great way to explain things to children. We have already read the book Mixed Me, by Taye Diggs, and will continue to read this book to him. It does a beautiful job explaining how being mixed is a beautiful thing. I also think that we will spend a lot of time with both sides of our families, and he will see how amazing his family is.
WHAT IS YOUR DREAM FOR YOUR CHILD'S FUTURE AND THE FUTURE OF AMERICA IN REGARDS TO RACE?
My dream is that America starts to embrace the cultures/races that are in our country. When I was younger, I used to say I don't see color, until I had a multicultural class in college and learned that it's okay to see the differences in others, as long as you are not judging them for what they look like on the outside. We should EMBRACE all races and cultures, NOT shy away from it. There are so many different kinds of races and cultures in America, so learn more about each other, where people come from therefore, we can REALLY understand each other. We shouldn't be afraid to talk about different races & cultures because it's a BEAUTIFUL thing that we are not all the SAME.
ANYTHING ELSE YOU WANT TO SHARE?
Although Kaison is mixed, he will still be looked at as "black", so I would be lying if I said I'm not scared for him. Kody and I get looks all the time when we are out in public, especially when we have Kaison. Racism STILL exists. While I understand not everyone is racist, PLEASE don't act ignorant and pretend it doesn't exist. When I first meet people and they don't know who I'm dating, they will see him or a picture and say to me "oh you're dating a black guy, I would've never known". Why? Because I'm white, and I talk "white" to you? I can't date outside of my race? Or when we decided to name our son Kaison, I heard about some girl saying, "oh figures", like it sounds "black" because it's different. As we usually just ignore the ignorance and go on with our day, we still SEE it, we still HEAR it. I just hope for my sons future, people stop racially profiling people for the color of their skin. Like I've said before, and I'll say it again, it is a BEAUTIFUL thing that we are not all the SAME."