Visiting India in 2001, I was enamored with the never-ending range of color worn by the women. Deliciously hued saris and salwar kameez, draped effortlessly on city dwellers and rural residents alike. The intricate details of the native garb oozed femininity and I couldn't image how all of the work in these garments was truly handmade. But an adventure to an underground loom shop revealed artisans chanting to keep track of the stitch, color and pattern. At shift change, the fresh craftsman knew exactly where to pickup without missing a beat. I was hooked.

 

In 2009, I landed a job with an unknown women's couture label whose mission was to combat sex trafficking. I learned the sobering facts:

At least 20.9 million adults and children are bought and sold worldwide into commercial sexual servitude, forced labor and bonded labor

About 2 million children are exploited every year in the global commercial sex trade.

Almost 6 in 10 identified trafficking survivors were trafficked for sexual exploitation.

Women and girls make up 98% of victims of trafficking for sexual exploitation.
Committed to saving lives, my new bosses had been developing their line for two years. Completely created in India, this American mother/daughter duo designed and imported nearly 1000 one-of-a-kind handcrafted masterpieces to the US. Dresses, coats, pants, shorts, jackets, jumpsuits in cashmeres, cottons and silks in every color imaginable. Simple daily wear, red carpet worthy--and everything in between. My philanthropic boss presented me with a new wardrobe so I could properly represent the company. There is a palpable energy in ethnic fabrics that draws people in. Hanging at a Lakers game, I unexpectedly caught a certain Kardashian giving my black embroidered cashmere shawl the side-eye.
The company was eventually sold due to the owner's divorce and but continues its mission. I moved on to become a stay-at-home-mom but to this day, I rarely leave the house without wearing something from India. If I want to make a lasting impression, I wear Scarlet Poppy Arte. Shoppers in NYC can see the line by appointment only. There is a small fraction of the line is available online. Brace yourself--it's pricey. Queen Bey would have a field day in their showroom. The Ganesh Dress took six months to make and Zendaya could rock it on a red carpet. Would love to see Zoe Saldana in the Sunset Kimono.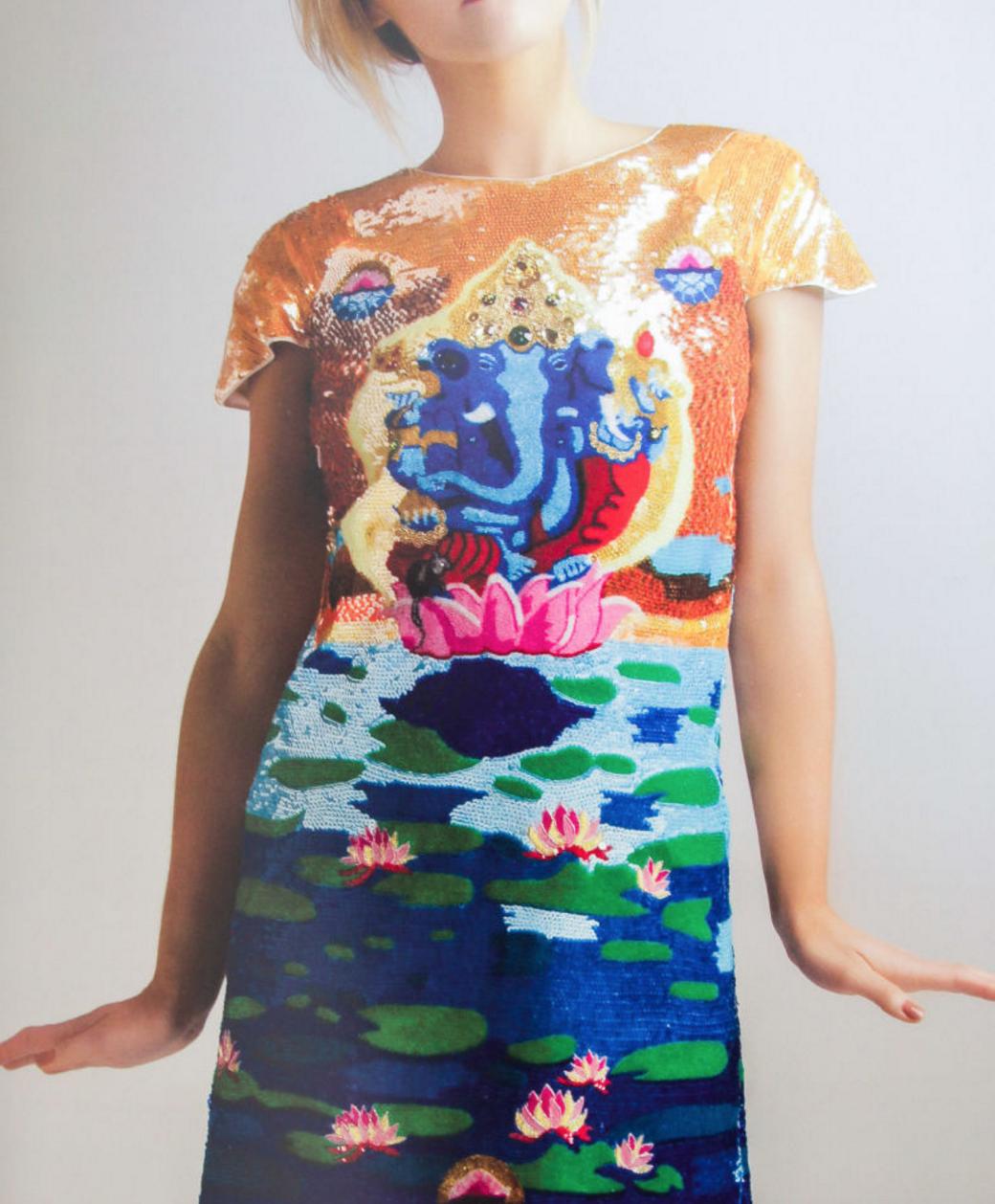 All dresses are from Scarlet Poppy Arte, from L: Gnesh Dress, Sunset Kimono, Aqua Gala Gown, and Envy Lounge Coat



Thank goodness it's easy for the rest of us to incorporate the flavor of any culture into a wardrobe without breaking the bank. Shawls, bangles, earrings add texture and color year around. I usually keep it simple--detailed pants with a chunky turtleneck, all black anything under an embellished coat or a wiggle dress with glitzy bangles and animal print shoes. Ethnic designs keeps things fun and virtually guarantees no one will have an outfit like yours.