I recently got back from a mini vacation to Guadeloupe. Sorry, not sorry! This beautiful island is located in the Caribbean and part of the French Antilles.
It's stunning. Oh and French is the national language. Je parle francais… un peu.
There are two parts to the main island, Basse Terre and Grande Terre. We stayed in Basse Terre which is considered the more rugged part of the main island – we didn't have time to visit both sides. We were literally only there for 3 full days, but when you find round trip airfare for under $200 you get it and go!
How do you make the most out of a mini vacation? By renting a car. Luckily at 15 – 25 dollars a day it won't break your bank. Staying at an Air BnB spot in Deshaies we were only a short car ride away from what is known as one of the most beautiful beaches Guadeloupe has to offer – Grande Anse.
Here is my day by day breakdown on what we did and where we ate! A more detailed description will follow in the coming weeks.
Day 1 – We arrived around 8:30pm and by the time we dropped our bags off at the Air BnB spot most of the restaurants were closed on the Rue de la Vague Bleue. However, Le Madras was open!
Day 2 – We spent the morning at Grand Anse Beach. Lunch at Les Delices d'Adrianna Bokits and Bar au Jus. After lunch we headed to Cascade aux Ecrevisses in Parc du National Guadeloupe. That evening we went back to Rue de la Vague Bleue and had drinks while the sun set at L'Amer. Dinner was at La Savane – number 3 on Trip Advisor.
Day 3 – We drove about 2 hours to get to Les Chutes des Carbet. Christopher Columbus noted these waterfalls in his log in 1493. They are so tall that they are visible from the sea! Gorgeous amazing waterfalls! The Deuxium (second) Chute is 2200 feet in elevation and it's 360 feet tall. The Premier (first) Chute is 3000 feet in elevation and 410 feet tall. It's quite the hike and you gain about 1000 feet, which is roughly equivalent to 8 miles round trip, to see the first waterfall, but it is so worth it! The water was a bit too cold for me to go swimming. After our hike, we thought we'd check out Les Bain Jaunes on the slope of La Soufriere (the volcano). Les Bain Jaunes is a hot spring. Sadly, it isn't very hot. Think tepid water. Ew. Felt like sticking my feet it pee… French pee. You're allowed to go swimming, but you do so at your own risk. If you get water up your nose you might just get your very own brain eating parasite! Yay! That evening we went to dinner in Rue de la Vague Bleue dining at Mahina, a pizza joint. A favorite of the locals.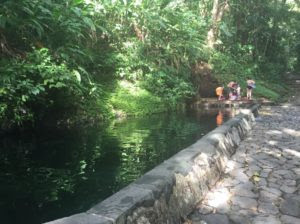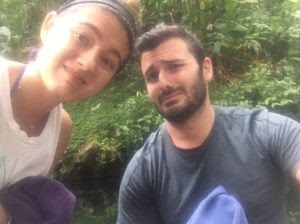 Day 4 – On our last full day in Guadeloupe we decided to eat petit dejeuner (breakfast) at Patisserie: Le Fourril de la Cote in Rue de la Vague Bleu. We spent the rest of our day at Grande Anse Beach. We ate lunch at Delices De Marco, and got homemade sorbet right on the beach! We loved L'Amer and Mahina so much we went back one final time for drinks and dinner.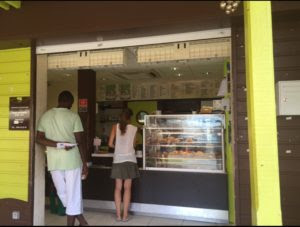 That was our trip in a nutshell. Would I go back to Guadeloupe? In a heartbeat. The locals are friendly French speaking people. The food is wonderful and the scenery is out of a movie.
The only thing I would change is where we spent our night's aka slept. The room had no screens and the fan barely worked. Did I mention there is a shit load of mosquitoes? Let's just say I feel like I have chicken pox all over again. Also, our host Magali advertises on Air BnB that she has free wifi. She had none. Yeah… Not cool yo. The one redeeming thing about the Air BnB was Magali has a cat.
I'm a crazy cat lady so being woken up by a screaming kitty at 4am, that got into our room, was endearing to me. However, I'm betting most people would probably have thrown the cat off the balcony.
All in all, I loved our mini vacation and I can't wait to go back and see the rest of Guadeloupe.