HAPA CUPCAKES: 105 W. AMERIEGE AVENUE, FULLERTON, CA 92832
The following post has been a while in the making. First I tweeted (maybe more than once). Then I found them on Instagram, so of course, I had to follow them… And like all their photo's in the process. I admit it, I kinda stalked the ladies of Hapa Cupcakes, but guess what? It worked. Not only did they partake in Hapa Hour, but they also invited me to their bakery when I was in town a couple of months back. This does not mean you should go out and stalk someone until you get the results you want….
Sadly, I did not get to meet Hanayo Martin and Akemi Lee. However, their employees were expecting me and they let me pick out 4 different cupcakes and a mini cake to take home! So sweet of them!
I finally ended up with: Whiskey Oreo cookie, Kahlua Mocha, Strawberry Champagne with Chocolate Frosting, and Strawberry Cheesecake. Hapa Cupcakes are known for their liquor infused creations. The Whiskey Oreo Cookie Cupcake was great. The Strawberry Cheesecake was great too! My Mom and Grandmama loved the Kahlua Mocha one the best. I, however, loved the Strawberry and Champagne Cupcake with Chocolate Frosting.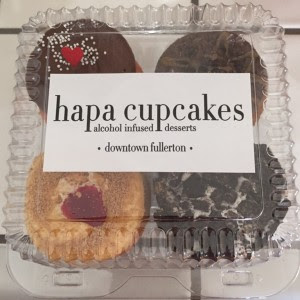 I have to say these were some of the best cupcakes I have had, and I'm a cupcake snob from living in NYC. The cakes were perfectly moist and those frostings! Oh man, wish Hapa Cupcakes could ship me a tub of that! It's easy to see how they were on Food Network's Cupcake Wars.
If you live anywhere near Hapa Cupcakes in Fullerton, California, you must go. Sorry NYC, there isn't one here. Maybe if I bug Akemi and Hanayo enough they will open one out here.
For more info on Hapa Cupcakes please visit their website.