I came across Amy's blog a few weeks ago while I was searching for articles about traveling to Africa with a biracial child. Google brought me to Amy's blog Mother In The Mix and I am so happy it did! I think you will all really enjoy reading how Amy and her husband Anthony have combined their cultures in raising their two gorgeous little girls.
xx jen
MEET THE HAYIBOR FAMILY:
Anthony, age 39
Ghanian
Amy, age 36
Hungarian, Polish, Ukranian, German
Moriah, age 8
Ghanian, Hungarian, Polish, Ukranian, German
Gabrielle, age 4
Ghanian, Hungarian, Polish, Ukranian, German
WHERE DO YOU LIVE?
Suburb of St. Louis, Missouri
HOW DID THE TWO OF YOU MEET?
I was sitting outside of a Starbucks, drinking my coffee and reading the New York Times. Anthony was working at a privately owned pharmacy next door as an intern. He saw me through the window, walked out, and asked, "So, what's in the newspaper?" At the time John Kerry and George Bush were running for president. I was pro-Kerry, and Anthony was supporting Bush. We had a light hearted debate about politics and exchanged phone numbers. Our first official date was at a frozen custard place called Ted Drewe's (it's a bit of a landmark in St. Louis).
WERE THERE ANY SIGNIFICANT OBSTACLES IN YOUR RELATIONSHIP CORRELATED TO YOUR BACKGROUNDS?
I feel like Anthony and I were really blessed in that neither of our families demonstrated any negative feelings about our relationship. Anthony's parents are still in Ghana, and I did not even meet my mother-in-law until after we were married. At the time, Anthony had one sister in St. Louis, and she is amazing. My parents saw that Anthony was a wonderful person (and, of course, still is). Perhaps they felt surprised or nervous for our future children, but they were not at all upset that my choice of husband was black.
WHAT TRADITIONS DO YOU CELEBRATE IN YOUR HOME?
I feel like we both bring traditions, characteristics, and personality traits from our individual birth families. My birth family is organized, economical, and educationally minded. I have transferred those "values" into my new family. Anthony's birth family is Christian, demonstrates great respect for elders and extended family, has a go-with-the-flow attitude, and is also very educationally minded. Anthony has passed down these values. The two most important holidays that we celebrate are Christmas and Easter, which Anthony celebrated those holidays growing up as well. Of course, he celebrated them differently, and now we typically celebrate them the "American" way. Nevertheless, I can usually trust Anthony's sister to bring some African dish to our gatherings, and we love that.
WHAT IS YOUR FAVORITE CULTURAL FEATURE/TRADITION OF YOUR SPOUSE'S RACE?
I love that Anthony feels a sense of duty and obligation to take care of his large extended family that remains in Ghana. We do all that we can to help an aunt, uncle, cousin, or grandparent in need. I also love how Anthony looks out for his two sisters that are in the U.S. He is always asking his youngest sister, "How's your car? Is it running well? Do you have enough money? Do you need anything?" Usually, his sister is just fine, but he always wants her to know that she could come to him if she had a problem. We have really impressed upon our daughters that their bond of sisterhood is important. They need to be there for each other. Friends can come and go. They will always be sisters.
IS THE COMMUNITY YOU LIVE IN DIVERSE?
Our community is not very diverse. St. Louis neighborhoods are still highly segregated. The community that we chose to live in is a vast majority white. However, we have come to discover more diversity than we had originally expected. My older daughter's best friend is Chinese-American and another good friend of hers is white and Mexican-American. One of my younger daughter's good buddies is white and Indian-American. Despite where we live, my husband and I have somehow compiled a diverse group of friends. Nevertheless, our neighborhood could definitely kick it up a notch in the diversity department.
DO YOU OR YOUR PARTNER SPEAK IN MORE THAN ONE LANGUAGE IN YOUR HOME?
My husband speaks an African language called Ewe. It is spoken in parts of Ghana, Togo, and Niger. He has chosen to not teach our daughters the language. He feels like the language is not "useful" the way Spanish, Mandarin, Arabic, or Japanese could be. I was very disappointed. I wanted my daughters to be able to translate for me! Haha.
ARE YOUR EXTENDED FAMILY SUPPORTIVE OF YOUR MULTIETHNIC RELATIONSHIP?
In short, yes. Everyone has been wonderful. There is really nothing else to say. It has been a non-issue on all sides of our families.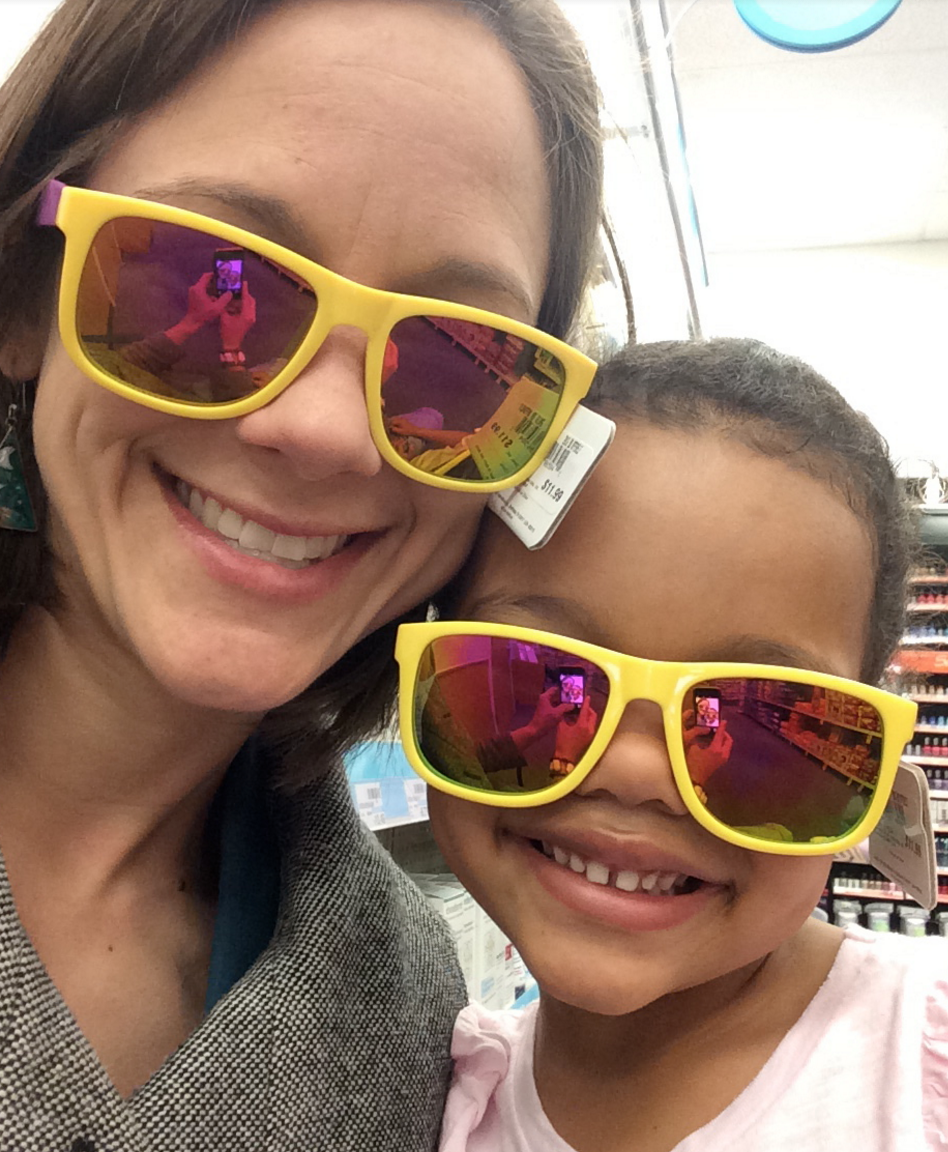 WHAT DO YOU ENJOY MOST ABOUT YOUR PARTNER'S ETHNIC-CULTURAL BACKGROUND?
My daughters and I love the African clothes. We all have a dress, and my girls love to wear them. They are so colorful and fancy! Ghanaian music is also very fun and lively. I love to watch my father-in-law sit and sway his head while he enjoys a song that he really likes. Finally, I also admire the way my husband's family practices Christianity. Ghana does not have as much wealth as the U.S.; therefore, church is more simple. Jesus is the center of their worship, and there are not a lot of bells and whistles that go along with their services. I appreciate the simplicity of focusing on Jesus.
DID YOU FIND BIG DIFFERENCES IN THE WAY YOU GREW UP VS. YOUR SPOUSE DUE TO DIFFERENCES IN RACE?
My husband and I grew up immensely differently. However, the differences are more due to culture than race. My husband was born in a small village at his grandma's house with a midwife. He stayed in the village until he was about 5. He then moved to the city of Accra, which is obviously more advanced, but not like the U.S. My husband went to a tiny Christian boarding school in South Dakota when he was 16 and then a small college in rural Missouri. Meanwhile, I was growing up in an upper-middle class family in a suburb of St. Louis. The communities in South Dakota and Missouri embraced him like a Ghanaian celebrity. It was not until Anthony went to pharmacy school in St. Louis that he even thought about his race.
WHAT IS THE MOST UNEXPECTED THING YOU'VE LEARNED ABOUT EACH OTHER'S CULTURE?
I think Anthony has become pleasantly surprised that extra time spent planning and organizing can greatly improve future events, plans, parties, outings, vacations, etc. I think Anthony is also surprised how adult Americans talk to and/or treat their parents. I know that I say things sometimes that Anthony would never say to his parents. I am trying to learn from him. He is such a good guy. I have been quite surprised by and still do not fully comprehend how Ghanaian adult children relate to their parents. On the one hand, I see my husband and his sisters laugh with and enjoy their parents in such a way that is so heart warming. They have a true bond. On the other hand, they seem scared (I don't know if that is the right term to describe the emotion) to say certain things to their parents. I don't know how they decide what is right to say and do and what is disrespectful. I don't know how they manage to have such a loving and close relationship, meanwhile certain topics of conversations or statements are prohibited due to respect.
ARE THERE ANY COMMENTS YOU ARE REALLY TIRED OF HEARING FROM PEOPLE IN REGARDS TO RACE/CULTURE?
Oh my goodness!!!!! I cannot understand how bold people are. I would never in a million, zillion years ask someone if their children were adopted, let alone ask the parent in front of the children faces. Nevertheless, I have been asked, "Are they yours?", "Are they adopted?", "Are they foster kids?", and "Are they yours OR are they adopted?" So annoying!
WHAT ACTIONS HAVE YOU TAKEN TO TEACH YOUR CHILDREN ABOUT EACH OF YOUR BACKGROUNDS?
Since we have had kids, we have been to Ghana twice. My in-laws have been here three times, and are coming again on May 2, 2016. We try to maintain as close of a relationship as possible. My older daughter has recently begun communicating with two of my sister-in-laws via Whatsapp, and she has really enjoyed their chats. My husband frequently talks about life as a child in Ghana, and my girls love learning things about the country itself. My husband and I have been asked to speak about Ghana at M's school, and she loved having the opportunity to share about her family heritage in this manner. I know very little about my ethnic heritage, but my daughters know the little that I know. For example, I have memories of my great uncle and great aunt speaking Hungarian, and I remember not liking my aunt's Hungarian baklava. I know that my paternal Polish relatives came to the U.S. in the early 1900s, and they changed their last name from ending in an "ski" to "sky" in order to appear less Polish. I know that my maternal grandmother's family was Polish and then immigrated to Canada. My maternal grandmother was one of the youngest of 18 children. It is these kinds of tidbits of information that my children know about my heritage.
HAVE YOUR CHILDREN ASKED ABOUT RACE?
We have talked about skin color differences since age 2. We have talked about skin color just like eye color and hair color. Therefore, that aspect of race has been talked about openly since my children could speak. M first mentioned a dislike for the skin color differences between her and I at age 4, and G commented that all of her friends in preschool were peach at age 3. We have thoughtfully and openly dealt with each individual conversation. We have juggled the ups and downs. I feel like both of my girls are in very good places right now as to how they feel about themselves and their appearance.
My first official conversation with M about race occurred in kindergarten when a fellow student said to her, "You are a black woman just like me." M inquired about this statement when she got home from school. Therefore, I showed her the globe, and I talked about how people generally looked in various parts of the world. I explained that humans just like to label and categorize things. Thus, race is a made up labelling system.
I explained the basic labels of White, Black, Latino, Asian, Arab, and Native American, and I identified what general characteristics go with each label. I also explained how this system does not really work because I could look at someone with brown skin and black loose curls, and I might think that person is Latina. However, in fact that person could be Arab, Asian (my friend is Filipino and has black curly hair), or a mixture of a variety of races. Because G has an older sister, she has heard people be labeled as "black" or "white" at an earlier age. However, I have not given her the official race talk yet, and she still frequently describes people by the actual color of their skin (dark brown, light brown, peach) rather than labeling people as black or white. G does label people who are Asian-American because we have several different friends who have Asian backgrounds (Filipino, Japanese, and Chinese), and G likes to make sure that she remembers the correct country of origin for each person. I am not sure why; she is a funny little girl!
DO YOUR CHILDREN IDENTIFY AS MIXED OR SOMETHING ELSE?
I am not 100% certain. First of all, with an 8- and 4-year-old, this topic is not frequently discussed. I know at one point in time last year somehow this conversation arose, and M plainly stated that she thought she was a black person because she physically looks like a black person. Three-year-old G was present at this time, and she wholeheartedly agreed with her sister. However, now I feel like M might consider herself biracial or mixed. She recently commented that on a computerized standardized test at school she was not able to pick two races (black and white), she was only able to select one. Therefore, her teacher suggested that she click "other" so that is what M decided to do.
HOW DO YOU RAISE YOUR CHILDREN TO HONOR DIVERSITY IN OTHERS?
I love to talk, and I love to teach. My children are probably so tired of asking a simple question or making a simple statement and then me taking the opportunity to turn their queries into gigantic discussions. We have talked about race, ethnicity, culture, languages, accents, disabilities, religions, appearances, illnesses, adoption, divorce and remarriage, fostering, etc. I never allow them to label a difference as "weird." It is just different. For example, a friend's house might smell different because the parents there use different ingredients in their cooking. These cooking smells are not what my children are accustomed to, but the friend's house does not smell weird. Maybe that friend comes over to our house and thinks our house smells weird!
I have also impressed upon my children that comments about differences should be reserved for private discussions with me. My younger one usually cannot contain herself when she notices a difference so she whispers her interesting fact to me, and we then discuss it later. My older daughter most often brings home tidbits of information from school or from friends' houses, and I always make time for us to discuss her observations.
WHAT UNIQUE CHARACTERISTICS DO YOUR CHILDREN HAVE FROM YOU AND YOUR PARTNER?
I do not feel like either one of my kids are carbon copies of my husband and I. My husband has very dark complexion, and I am light. My children are a medium brown, right in the middle. G has a rounder face like my husband, and M has my longer face and pointy chin. I believe that G favors my husband and two of his sisters (Veronica and Agnes). I believe that M favors me and my husband's sister Lisa. Nevertheless, sometimes I get a glimpse of G, and she reminds me of pictures of myself as a small child. I think it is her nose. G is also interesting because she almost has Asian-shaped eyes. We have friends whose marriage is Chinese-Australian and African-American. I feel like G looks like the sister of one of their daughters rather than the sister of M! I do not think that M and G look alike at all. When people tell me that my girls look so much alike, I think they cannot see past the colors of their skin, eyes, and hair (because those color features are pretty much the only physical attributes that G and M have in common).
HOW DO YOU PLAN ON TEACHING THEM TO BE PROUD OF BEING MIXED?
M understands that being mixed means her parents are from two or more races or ethnicities. We have many friends in mixed marriages with mixed children (Chinese & black, Filipino & white, Japanese & white, Syrian & Nigerian, Nigerian & white, Nigerian & Filipino, black & white, Mexican & white, Ghanian & Latino/white/Native-American, etc., etc.). Therefore, she understands that "being mixed" can come in many forms. I doubt that G fully knows what being mixed is. She usually just labels herself as brown, and one time she referred to herself as "in the middle."
I am not sure if I will teach my daughters to be "proud" to be mixed. I am not proud of being white, and my husband is not proud of being black. I don't mean to be controversial, but I am uncertain as to whether or not a person can be proud of something that her or she had no part in creating. My husband and I and our children did not make or choose our races or skin colors. We had no control. M can be proud that she has worked and mastered her times tables; G can be proud that she taught herself to braid her doll's hair; I can be proud of myself for cooking for an extended family of 12 for a month. Neither my husband or myself want our kids to pride themselves in their skin color or mixed heritage.
We do want to teach our children to be happy with their mixed heritage and view their mixed heritage as a positive attribute, which makes up who they are. We are a Christian family, and I would much rather have my children root their identities in Christ. I want them to be proud to be Christians because that means they are loving, compassionate, forgiving, merciful, kind, understanding, etc. (And we are all fully aware that many people of other faiths possess these same characteristics.) I teach my children to love themselves the way God created them. I have taught them that every aspect of their physical features, personalities, strengths, weaknesses were intentionally designed by God for a purpose. Who are we to argue with our Creator?
Is it possible that God messed up and gave G curly hair or made M emotionally sensitive? Absolutely not! God made no mistakes when he made my children, and my girls know that. I have also taught them that the words of others do not change the facts about my kids. For example, I can say all day long that the sky is green with yellow polka dots. Do my words make that statement true? Of course not, the sky is still blue. Another example, my older daughter might be having a fabulous day, loving life and loving herself, and then suddenly some kid says, "Why do you have Hello Kitty shoes? Hello Kitty is so babyish." Is this kid's statement suddenly a fact? Does my daughter need to now hate Hello Kitty, hate her shoes, and feel bad about herself? No way! She can just say, "Well, that's nice, but I like my shoes. I liked them before you said that, and I still like them now." My motto is: Do not let the statements of others alter what you believe/think/feel about yourself. You know who you are, what you like, what you don't like - others' opinions don't change who you are.
WHAT IS YOUR DREAM FOR YOUR CHILDREN'S FUTURE AND THE FUTURE OF AMERICA IN REGARDS TO RACE?
Considering race is a man-made labelling system and skin color is simply the quantity of melanin and the type of melanin in our skin, I would love it if my kids (and all kids) saw skin color as just another physical attribute like hair color, height, eye shape, etc. We cannot ignore skin color. It's a physical part of who we are. However, I wish that there were no assumptions or preconceived notions attached to skin color. I want my children to feel comfortable with, build relationships with, value, and enjoy people of all races, ethnicities, cultures, religions, etc.