I was lucky enough to be introduced to Santana via email through our mutual friend Chanel. Santana's story reminded me of a couple of my friends, who are also adopted and have learned about the details of racial background through DNA testing. We live in such a powerful time right now, with so much data and information available to us that no one has ever had before. I would really urge everyone to seek out details on their background through Ancestry or 23 and Me, it is a fascinating experience!
Enjoy reading Santana's journey, I know I did!
xx jen
Santana Dempsey
WHAT MIX ARE YOU?
Multi-Racial. My biological father was Afro Latino. I was told he was from Puerto Rico. Based on a DNA test I had done last year he was also mixed race. His ancestors came from West Africa, Spain/Portugal, Italy, Middle East, Greece and Europe. My biological mother was Caucasian. All of her background is Western European primarily from France, Germany and Great Britain.
WHERE DO YOU CURRENTLY LIVE?
Los Angeles
IS THE COMMUNITY YOU LIVE IN NOW DIVERSE?
Yes
WHERE DID YOU GROW UP?
I was born in Dallas, Texas but grew up in Hannibal, Missouri because I was adopted and that is where my parents lived. Hannibal is not a diverse community. There were only White and Black people. My town was horribly segregated with the Black people living on the South side and everyone else lived...Well, everywhere else.
Even my lunch room was segregated. Black kids literally sat on one side of the room taking up two long tables. There were a few Black students that sat with the rest of us but there was a definite divide. I don't even know how that divide started. It was not a mandatory thing. My sister and I were the only mixed raced kids I remember growing up. There was one Asian girl, one Indian girl that were in my grade. And no Latinos at all. Only thing I knew about Latinos was from the media and our one Mexican restaurant. So no, there were no other multi-racial kids I could identify myself with. Except my biological sister. But we had very different experiences and didn't really talk about identity. We were both doing our best to belong.
HOW DID YOUR PARENTS MEET?
This section becomes tricky for me. I am adopted. My adopted parents, who I call my parents are White. I don't know much about my biological family so this section is going to be challenging to answer. I will try to navigate it best I can.
My parents met in college. At the University of Missouri, Columbia. I believe at a party or friends introduced them. No idea how my birth parents met. Probably on the streets. My birth Mom always struggled with substance abuse and depression. She ended up falling into the unhealthy situations and hanging out with bad people. My birth Father apparently was selling drugs and guns.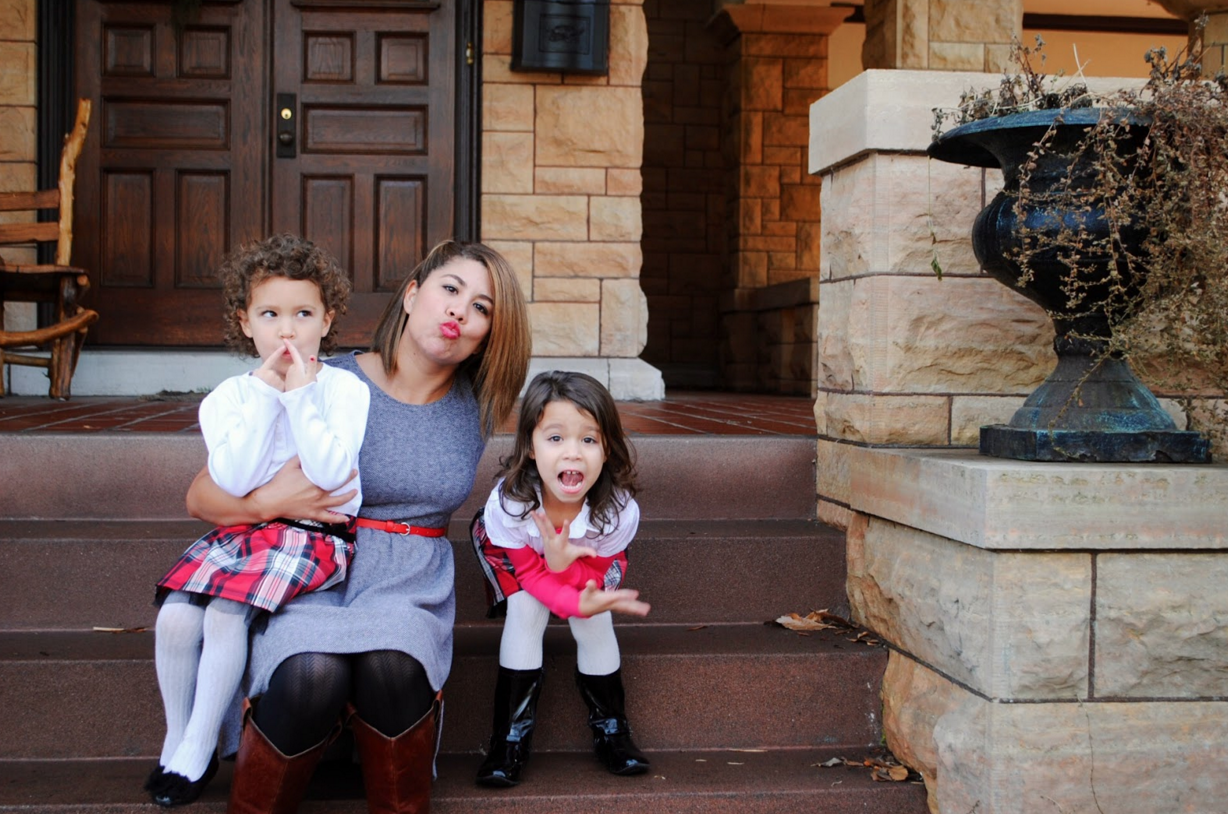 HAS YOUR EXTENDED FAMILY ALWAYS BEEN SUPPORTIVE OF YOU BEING MULTIRACIAL?
I think so. I remember asking my parents if anyone in the family had a hard time with them adopting children of a different race. They said no. I know that my birth grandparents did not approve of my birth mom dating a man of color. In turn, possibly having a problem with me being mixed. This was in the South when times were very different. I have to believe it had more to do my birth father being a bad influence on my birth Mom than my actual mix.
WERE THERE MULTIPLE LANGUAGES SPOKEN IN YOUR HOUSEHOLD?
My biological father's first language was Spanish and that is what he spoke. In high school, I wanted to get back to my roots and learn Spanish. I studied abroad in Argentina my Senior year in High School which helped a lot but I never did become fully fluent. I wish I was. I am conversational and understand most. But I will always sound like a gringa.
WHAT ACTIONS DID YOUR PARENTS TAKE TO TEACH YOU ABOUT YOUR DIFFERENT BACKGROUNDS?
My parents had us travel. We went out of the country once or twice a year. It is one of my favorite things my parents did for us. It allowed me to experience other cultures, food, religions, races. It helped me see there was more to the world than my small town. They also let my biological grandmother on my birth mom's side keep in contact with us. Which was helpful if I ever had questions about my birth parents.
DID YOU TALK ABOUT RACE A LOT IN YOUR HOUSEHOLD WHEN YOU WERE GROWING UP?
Not a lot. It usually came up when something would happen to me at school or with other parents making some kind of racist remark. Then my parents definitely would address race in the best way they knew how at that time. I definitely talk about it a lot now! (ha ha ha), I usually always bring it up. It is a way for me to make sure my parents are exposed to these topics first hand. Not through a newspaper article, or a book but through their daughter who is a person of color.
Sometimes, I feel my parents wish I didn't talk about race relations so much. Or call out racist things I see where they live because it can cause tension. With that said, in my head I think, "this is a reality for me and many of my friends. It doesn't just stop. I live with it daily. But because you are White, you get the privilege of making it stop." It makes me sad. That I can't make it stop like they can. I truly believe we need to talk about race. Give it room to breathe. Not be afraid of our differences and the uncomfortableness of it in the world.
DO YOU IDENTIFY AS MIXED OR SOMETHING ELSE?
I definitely identify as mixed race or multi-racial. Though, I have noticed that saying that term doesn't seem to appease most people. I can never just say "mixed race" because it is always followed by a question of "what were your parents" or something to that effect. Depending on who is asking the question helps me gauge how I respond because sometimes I will simply say Afro- Latina and White or leave the White out since most of society does not view me as a White woman.
DOES RACE WEIGH INTO WHO YOU CHOOSE TO DATE?
When I was younger, I was primarily attracted to White guys. I wanted someone who resembled my Dad. White, Midwestern boys is what I knew best. With lots of travel and living in NYC and L.A., I have been exposed to much diversity. Now, I am most attracted to... How about this, I feel most myself around other mixed race men and Latinos. Dating White guys as an adult, makes me feel like they can't fully understand my experience being a woman of color. This sounds kind of harsh, I just realized. I wanted to be honest. Ideally, I'd enjoy being in love with another multi-racial man who is in love with me. However, I am open to any man, no matter his race if he makes me feel seen, heard, and loved. That's all I need!
WHAT DOES BEING MIXED MEAN TO YOU?
It means, I will never be just one thing. I am not one. I don't want to be one. I embrace all of me. All of the things that make me. I am of many, many, things! Being mixed race, allows me to experience my family's different roots and different histories. In turn, allowing me to grow as a person because I get to understand such a wide variety of cultures. It's almost like being mixed is a way of bringing differences together. Mixing it all up. So in the end, we are actually more integrated and connected as people. Being mixed race is powerful.
DO YOU HAVE A LOT OF FRIENDS WHO ARE MIXED?
I do. I am very grateful to finally have a group of people who understand the mixed race struggle. It makes me feel less alone and more understood. Actually, I have more mixed raced friends living in L.A. than any other place I have lived. Many actually grew up in L.A. /San Fran area.
ARE THERE ANY COMMENTS YOU ARE REALLY TIRED OF HEARING FROM PEOPLE IN REGARDS TO RACE/CULTURE?
I'm tired of the "What are you" question. I really believe people ask this because they don't quite know what to do with me. It is their way of labeling me. I do realize, not everyone is like that. Some, simply want to know because they are curious. But yeah, I'm over that question. It comes with more weight than people realize and I find it highly personal.
Also, is having thick, curly, mixed race hair such an alien thing? Do you really need to ask me to touch it or what it looks like when it is wet or how long it takes me to straighten? It is just hair! Leave my hair alone. Google it.
WHAT IS YOUR DREAM FOR THE FUTURE OF AMERICA IN REGARDS TO RACE?
To be more compassionate towards the way a human being identifies. Even if it is in a way that you do not comprehend. Try. Or at least not judge based on the color of someone's skin or the way a person speaks. Also, for people to realize it is not their right to racially define another person. It does not matter what you think that person is or is not. Your opinion does not matter in regards to how one identifies. Plain and simple.
Lastly, to stop telling mixed race people they aren't enough. To stop telling us that you are more than us. What right do you have to say that you are more than another? My dream is for all of these boxes and categorizations to STOP. We do not need them. They were designed to segregate us, when we do not need to be segregated. We have lived that way long enough. It is time for us all to come together and simply be. Be present with all of our unique and beautiful differences and to be at peace with ourselves and our fellow beings.
ANYTHING ELSE YOU'D LIKE TO SHARE?
Currently, I'm working on her own interdisciplinary art project called Somewhere In Between aimed at giving a voice to people who have experienced living between worlds. I'm offering them an artistic platform to express how those experiences have shaped their identity by creating a mixed media art installation. I'm most interested in adoption and mixed race. If you are connected to either topic, I'd love for you get involved and share your story with me. Check out www.somewhere-in-between.com for more info!